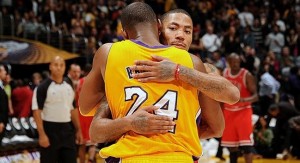 Kobe Bryant has only ever known the Los Angeles Lakers. We've only known him as a Laker. Could he conceivably wind up playing anywhere else?
With one more year left on his current deal, it's a fair question. The Black Mamba, despite what he says, appears to have plenty of gas left in the tank, and Los Angeles is ready to usher in the Dwight Howard era (should he re-sign) after next season. The possibility for him to play elsewhere then, is there. Emphasis on the "Dwight Howard" of it all.
Sam Smith of Bulls.com writes that the Lakers may have to consider parting ways with Bryant after next season if they wish to sell Howard on a career in Hollywood, and he notes the Bulls as a team Bryant could consider:
Meanwhile, and I've never figured out why other than Jordan was there, Bryant has had a long affinity for the Bulls. When he was a free agent in 2004, he met with Bulls managing partner Jerry Reinsdorf and GM John Paxson about signing with the Bulls. But the Bulls only had the salary cap exception and Bryant opted for the big deal to stay with the Lakers. But when the Lakers crumbled, Bryant openly pined for the Bulls and demanded a trade before the 2007-08 season. The teams were in talks, even if the Lakers made the demands so egregious there never was a real chance of a deal, as the Bulls mulled various possibilities to trade for Bryant. The Bulls were the only team he said he'd go to.

And after next season the Bulls have various options to get below the salary cap and add a free agent. Obviously, Bryant would make nowhere near the $30 million the Lakers could potentially pay him. But I doubt they would, anyway. And, after all, Bryant's always been about the game and the challenge. And what better way to take on a great challenge than at the end of his career, though still being highly productive, and going after LeBron in Michael Jordan's playing city.
There you have it. Your daily dose of not going to happen.
If Bryant was indeed pining to play for the Bulls as Smith reports, it was (at least) five years and two championships ago. Not only is Kobe more attached to the Lakers than he ever has been before, but he's more cognizant of his legacy, the one he'll leave behind after he retires.
Will he want to taint all that he's built, even slightly, by playing for another team? Some still can't wrap their head around why Michael Jordan played for the Washington Wizards. He played fairly well, and wound up eclipsing 30,000 points, but it was with the Wizards. Not the Bulls, the Wizards.
At this point, I don't see playing anywhere else as an option for Bryant. For 1) he runs Los Angeles and 2) if the Lakers ever pass on him, it will be because he can't perform. And if he can't perform, he'll be the first one to admit it and retire.
This misconception that Kobe can't play alongside Dwight beyond next season (or even this one) is absurd as well. After his current contract is up, Bryant isn't going to be paid the way he is now. He'll be at point where he and Howard can share in the glory that comes with being the face of the Lakers.
Mostly, though, seeing Kobe don any colors other than purple and gold is just implausible. When he and Shaquille O'Neal were feuding or when he had requested a trade, his departure was conceivable. Now, it's just the opposite.
Howard or no Howard, the only way Bryant will leave the Lakers is through retirement.
Dan Favale is a firm believer in the three-pointer as well as the notion that defense doesn't always win championships. His musings can be found at Bleacherreport.com in addition to TheHoopDoctors.com. Follow @danfavale on Twitter for his latest posts and all things NBA.