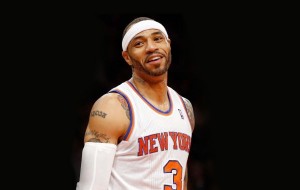 With Amar'e Stoudemire out for the rest of the season, and Tyson Chandler recently bruising his knee, the Knicks need all the frontcourt help they can get. They signed Kenyon Martin to two back-to-back 10 day contracts to fill that void. K-Mart has played very will for the Knicks in the few games he's been on the roster. Well enough for the Knicks to sign him for the rest of the season.
Martin's second 10-day contract expired after Thursday's game, in which he made his first start with the Knicks. Martin made four of his first five shots in the opening quarter as the Knicks built a 13-point lead and he finished with 12 points and four rebounds in 31 minutes.

Martin could start again Sunday vs. the Clippers, the team he played with last season, if Tyson Chandler doesn't return from a bruised knee.
H/T: NY Post