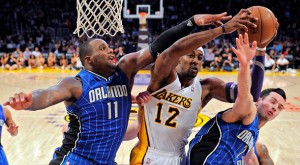 Last night, the Orlando Magic further lifted the fog on just how brittle the Los Angeles Lakers have been looking.
Yes, the short end of this story is that the Magic won a game through the efforts of an all too convincing final period. Kobe Bryant had another monster game (34 points, 7 rebounds, 5 assists), Dwight Howard missed a bunch of free throws (9-21), and the rest of the Lakers were largely nondescript.
What must have struck people as particularly odd was how the Magic's bigs performed in last night's game.
Nikola Vucevic (Orlando's 2011 first round pick) had a great showing, collecting 17 points and snagging 12 rebounds. Glen Davis bested Antoine Jamison and Pau Gasol for most of the night, finishing with 23 points and 12 rebounds of his own. Both big men had great defensive performances as well (4 blocks for Vucevic, 2 blocks and a steal for Davis).
There's been talk, primarily from Mike D'Antoni, that Steve Nash returning is going to really help this team. D'Antoni even said that Howard not making his free throws "wasn't hurting us".
Now, Howard has been more help than harm to the Lakers, to be sure. Even in his free-throw miss riddled performance last night, Howard snagged 6 offensive rebounds. But there's no doubt that missing a dozen free throws is going to hurt you as a team. That's it…there's really no "analysis" to be made on that point.
Now, as for the idea that this is now Nash's team because D'Antoni is the head coach, let's give the idea some credence. There's the relationship factor with the two, understood. But the last time Nash was the third best player on his team was either when he was a rookie with the Suns or a journeyman with the Mavericks. The point is that you don't just run a team with Dwight Howard and, much more importantly, Kobe Bryant starting along side you.
Granted, Steve Nash would improve offensive flow in D'Antoni's persistently up-tempo system. But, consider the line for the Magic's starting PG last night. Jameer Nelson went for 19 points and 12 assists. Nash having to deal with PG's is the kind of weakness that could put even more strain on the Lakers.
It will be nice to see Steve Nash (try) manning an offense that boasts a presence like Howard. How in the world that stops opposing guards from having career games against Los Angeles is a different story altogether.
It's a young season yet, folks.
Mohamed Abdihakim is a journalism student at Florida Atlantic University. He is a Phoenix Suns fan, who is not prepared for the possibility of Nash winning a title in a Lakers jersey. Mohamed is also a contributor at "Les Snobs". Interests include International basketball, Mad Men, and blues music. Nearly all stats are credited to Hoopdata or Basketball-Reference.
Twitter handle: @Abdi_hakim