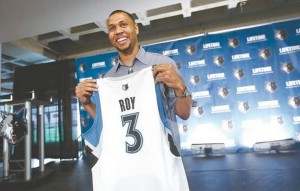 The Minnesota Timberwolves' Brandon Roy received some bad news yesterday. After aggravating his knee injury on November 9th, Roy has been informed that he will have to have yet another knee surgery. To this point, that makes 5 knee surgeries for Minnesota's all-star guard.
When asked about the possibility of his career being over due to this recent setback, Roy maintains the composure he's been known for on the court:
"I wouldn't be disappointed either way,'' Roy said. "If it ends in three weeks, it ends. It's over. I'm totally satisfied with what I've done."

–Via The Oregonian
In his first season back from retirement, Roy struggled out of the gate. The former all-star couldn't find his offensive rhythm, mustering 5.8 ppg. He did lead his team in assists, in the absence of PG Ricky Rubio, with 4.6 dimes per contest. Though his distribution was a positive, his 31% from the field had clearly shown Roy was yet to make it back to anything near his old NBA form.
The news of his surgery had come up as the Timberwolves were getting set to play the Trailblazers at Portland. This would have been Roy's first game back at the Rose Garden, a place that had seen the very best of the 6'7″ shooting guard.
play-off performances and all, Portland witnessed Roy develop from a potential-heavy rookie of the year to a perennial all-star.
He said he was looking forward to playing his first game at the Rose Garden…It's going to be special. It's going to be weird," Roy said…" "I use to walk to that locker room in the Rose Garden… and you know, I felt like I owned the place."
We're all pulling for Roy's comeback to carry on. Roy has long been a consensus fan favorite not just in Portland, but across the nation. He's led enough comebacks and put in enough gritty performances for hoop heads to want to see him back on the court as soon as possible.
Mohamed Abdihakim is a journalism student at Florida Atlantic University. He is a Phoenix Suns fan, who is not prepared for the possibility of Nash winning a title in a Lakers jersey. Mohamed is also a contributor at "Les Snobs". Interests include International basketball, Mad Men, and blues music. Nearly all stats are credited to Hoopdata or Basketball-Reference.

Twitter handle: @Abdi_hakim