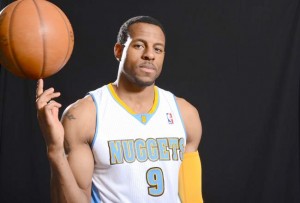 The Denver Nuggets have a problem.
Strike that, the Nuggets have a bounty of problems, none more pressing, however, than their overall start to the season.
After having what many deemed one of the most fruitful offseasons in the NBA, Denver currently sits at 4-6. To put that record into a more significant context, let's acknowledge that on its way to 4-6, this team finds itself at the bottom of the Northwest Division. At the very bottom.
This was a squad that was supposed to contend with the Oklahoma City Thunder for the top spot in the division. Instead, however, the Nuggets find themselves not only behind them, but behind the mediocre Utah Jazz, a rebuilding Portland Trail Blazers unit and a decimated Minnesota Timberwolves team as well.
So, naturally, we're inclined to wonder what gives. Why are the Nuggets playing so poorly? Why are they such a roller coaster ride? How have they managed to allow the once-close-to-imploding Los Angeles Lakers to become a more positive story than them?
Well, to be honest, there really is no short answer.
We could chalk Denver's recent woes up to chemistry, and to some extent, that probably is the case. This team is still relatively new to each other, so it is more than feasible to believe that the Nuggets are still attempting to find their footing.
But to believe chemistry, to believe cohesion is the only issue here is shortsighted.
It's shortsighted to overlook the fact that Denver's leading scorer is Andre Iguodala, who drops just over 14 points a night. It's unsettling to acknowledge this team is barely connecting on 30 percent of its three-point attempts. It's disconcerting to accept that they're first in rebounds, but 26th in points allowed.
Most importantly, though, it's unsettling to even broach the notion that maybe this dynamic isn't working.
Yes, it's still early in the season, but the Nuggets are failing where they were supposed to succeed immediately. Despite a slew of offensive weapons, they've failed to crack the top 10 in points per game. Despite holding on to Danilo Gallinari, Wilson Chandler and Ty Lawson for the forseeable future, they've had two losing streaks of at least three games. And despite finally acquiring a heralded All-Star in Iguodala, this team lacks leadership.
And again, it's troubling.
http://www.youtube.com/watch?v=Uji1hAZGMk8
I understand that having nearly seven players average in double-figures is a good thing, and I also understand that this team has remained competitive against the best in the Miami Heat. But that's not enough.
Denver was supposed to be near unbeatable this season. The Nuggets' supply of versatility on both ends of the floor is near unmatchable on paper. On the court, however, it has been anything but. They're struggling to hit open shots, playing porous defense—inside and out—and just lacking confidence in general.
No, I'm not saying it's time to hit the panic button, because it's not. It's still far too early and this team remains far too talented for us to make a snap judgment.
That said, accepting the need for change is more than justified.
Iguodala or someone else has to become more vocal. Gallinari, Lawson and Chandler have to step up their production. This team, as a collective, must develop the type of confidence their roster suggests they have.
If they can do that, rebounding from this borderline atrocious start will be more than doable.
Should the Nuggets continue to play identity-less basketball, however, redemption will prove to be well out of reach.
Dan Favale is a firm believer in the three-pointer as well as the notion that defense doesn't always win championships. His musings can be found at Bleacherreport.com in addition to TheHoopDoctors.com. Follow @danfavale on Twitter for his latest posts and all things NBA.