September 17, 2012 – Allen Moll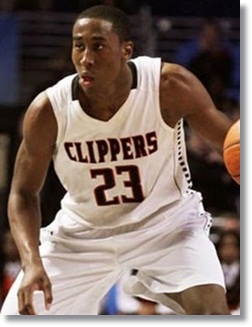 When coach Sean Miller and the University of Arizona coaching staff was able to secure a commitment from Top 15 recruit Rondae Jefferson late last week, he already knew he was getting one of the most athletically diverse players in the country. But what he probably didn't know was that Jefferson also brings a colorful and playful personality to Point Guard U for the '13-'14 season as well.
Standing at 6'7 and weighing in at a wiry 215lbs, Jefferson oozes potential as an elite defender, powerful finisher, and win-at-all cost type of prospect. Rondae hails from Chester, Pa, the South Philly basketball hotbed that has produced numerous NBA and NCAA stars in recent years like Jameer Nelson, Tyreke Evans, and Nasir Robinson at Pitt.
Jefferson has helped his hometown Chester Clippers to 2 consecutive Pennsylvania State Titles and are poised to make a run at a 3rd during his senior campaign this season. While he may not yet be a dynamic offensive player, he has such a diverse skill set that he even played some point guard at 6'7, making him the latest in the line of hybrid small forwards that can be a match-up nightmare going forward.
As the #15 ranked prospect in the 2013 Class, Jefferson is a shoo-in to not only be selected but should star in next year's legendary McDonald's All American and Jordan Brand Classic Games heading into the Summer of 2013.
Unlike his older brother, Rahlir Hollis-Jefferson, another former Chester product that plays for Temple University, Jefferson chose to leave the comfort zone of Philly to play out West for Arizona, selecting the Wildcats over schools like Florida, Texas, Syracuse, Memphis, Rutgers, and Temple.
A few weeks ago, Jefferson and a HS teammate made a colorful attempt at re-creating those older, now famous Michael Jordan/Mars Blackmon Nike ads of the early 90's, with Rondae as MJ, of course……..
Check out Rondae Jefferson's spoof on MJ/Mars Blackmon:
Here's Rondae Jefferson's Summer Mixtape:
Allen Moll has been a lifelong NBA and NCAA College Basketball fan who watches and studies games religiously, and coaches youth basketball in his native Lehigh Valley region of Pennsylvania. Allen has also provided content to Bleacherreport.com, Upperdeckblog.com, Cleveland.com, CSN Philly.com, Buckets Magazine, ?in addition to being a tenured NBA and NCAA columnist for TheHoopDoctors.com.