September 5, 2012 – The Hoop Doctors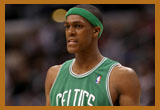 Many guys grow up playing multiple sports, but it isn't often that you hear a player of Rondo's caliber say that he barely watched the NBA growing up because he wanted to be a football player. Needless to say, he made that transition to the court just fine.
And while that last Boston championship team contained some of the best veterans in the game – among them Ray Allen and Kevin Garnett—Rondo has emerged as the franchise's on-court leader, a natural role for a player who readily admits his initial dreams of sporting glory centred around playing quarterback for the Green Bay Packers. 'I didn't watch a lot of NBA games growing up,' he says. 'I watched the Green Bay Packers. I always had dreams of being an NFL player.
Source: soutchinamorningpost