September 19, 2012 – The Hoop Doctors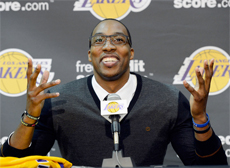 This coming season, the LA Lakers are on pace to have the leagues highest payroll at a whopping $100M. Given Kobe Bryant makes a league high at almost $27M and Pau Gasol makes $19M, the additions of Dwight Howard and Steve Nash has put the Lakers in a tough spot with the salary cap.
'But they ain't seen nothing yet', as next year the luxury tax penalties increase under the new CBA, and you can couple that with the fact that the Lakers will be looking to re-sign Dwight Howard to a long-term maximum contract. In other words the Lakers are facing a potential one-season luxury tax penalty of $94 million. That is INSANE!
Here is a breakdown of how a potential payroll of $105 million, paired with a projected tax level of $73 million, would put the Lakers $32 million above the threshold and cost them an additional $94.5 million in taxes in the 2013-14 season:
This is great news for the opportunistic owners league-wide who will be looking to make deals with the Lakers. From a negotiating standpoint the Lakers are going to be under extreme pressure to make moves to gain expiring contracts, and/or dump salary. Therefore, teams that have those types of assets on their roster could pick up some nice talent at a bargain price in the summer of 2013.
Not the end of the world for Lakers Nation, but definitely something to keep their eye on.