August 13, 2012 – Allen Moll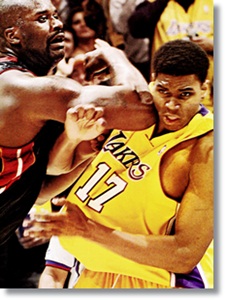 Now that the dust has settled on the Dwight Howard trade that sent the dominating big man to the Lakers, with the Nuggets landing Andre Iguodala, and Philly netting in return a one-time Shaq replacement in LA, Andrew Bynum, it didn't take long for Shaquille O'Neal to add his two cents to all of the player movement through his highly active Twitter account.
Shaq may perhaps be the perfect former player to get a comment from considering he has had his run-ins and rifts with both Howard and Bynum over the final years of his career.
While Howard always seemed intent on capturing Shaq's longtime trademark "Superman" moniker during his playing days, Bynum chose to take a more physical and direct method in his rookie season('05-'06) of getting to the game's most dominating big man.
If you remember, prior to the '05-'06 season, Shaq left LA to team with Dwyane Wade in Miami, a fact made easier when the Lakers drafted the 7 foot man-child Andrew Bynum straight out of high school in the 2005 NBA Draft.  In January of 2006, Shaq and Bynum had their first face-to-face on-court meeting with Bynum surely intent on proving himself to the "Diesel."
After Shaq embarrassed Bynum with a poster dunk, Bynum quickly raced downcourt to demand the basketball and shook the future Hall of Famer with a stunning up-and-under move to score.  As the two players ran back upcourt, both continued jawing at each-other with Bynum nudging Shaq until Shaquille served up a forearm shiver to Bynum, with both players earning a technical foul.
Over the years, Shaq has gone on record in support of Bynum's growing skill set and ascension to Top 5 big man status as a first time All Star in 2012, but in checking out Shaq's Twitter account, apparently Shaq may still harbor some resentment for Bynum, one of the few players in the Association that had the gall to stand up to one of the game's biggest players…….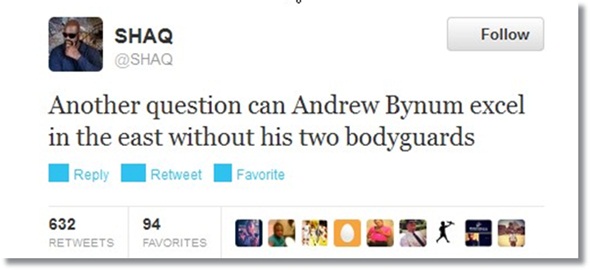 Apparently Shaq isn't so sure that Bynum can succeed in Philly without the help of his "bodyguards" Kobe Bryant and Pau Gasol.  Should we take this literally or chalk it up to Shaq just being Shaq?
Check out some video of Shaq's first game against Bynum:
Allen Moll has been a lifelong NBA and NCAA College Basketball fan who watches and studies games religiously, and coaches youth basketball in his native Lehigh Valley region of Pennsylvania.  Allen has also provided content to Bleacherreport.com, Upperdeckblog.com, Cleveland.com, CSN Philly.com, Buckets Magazine, in addition to being a tenured NBA and NCAA columnist for TheHoopDoctors.com.