August 9, 2012 – The Hoop Doctors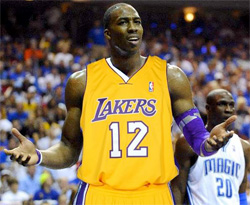 ESPN tonight is reporting sources are telling them that as of this evening the four team deal that would send Dwight Howard to the Lakers to team up with Kobe Bryant and Steve Nash is complete. Here are the details on which players are moving where as a result:
A four-team trade that would send Dwight Howard to the Los Angeles Lakers is complete, multiple sources told ESPN on Thursday night.

A source with direct knowledge of the talks told ESPN.com's Marc Stein the Lakers will receive Howard, the Denver Nuggets will acquire Andre Iguodala, the 76ers will receive Andrew Bynum and Jason Richardson, and the Magic will get Arron Afflalo, Al Harrington, Nikola Vucevic and one protected future first-round pick from each of the other three teams.

In addition, the Magic will be getting other pieces, including 76ers No. 1 draft pick Moe Harkless, a source told Stein.
The initial reaction from the blogosphere will likely pit the Lakers as the odds on favorite to win the West with their new, but aging, 'Big Four'. Although this new look Lakers lineup are likely going to do some damage, until someone from the West beats the OKC Thunder, they will still be considered the Western Conference's top team.
But if the Lakers big four of Bryant, Nash, Howard, and Gasol are able to gel together on the court, on paper they are definitely the team to beat.
Heading into this summer it looked like the Heat were going to be virtually unbeatable after improving instantly over the summer by adding Ray Allen, but this move is also a game changer.
Thoughts? Are the Lakers strong enough with Howard to beat the OKC Thunder? Better yet, are they strong enough to beat the Heat in an NBA Finals pairing?