August 3, 2011 – Allen Moll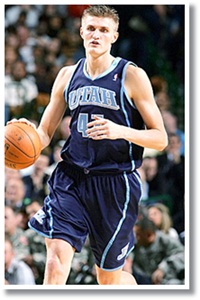 Utah Jazz forward Andrei Kirilenko has been the definition of an enigmatic player in his 10 seasons with the Utah Jazz. After earning All Rookie 1st Team honors('02), getting an All Star selection('04), and three All Defensive Team('04-'06) nods and establishing himself as one of the most versatile young players in the Association, AK-47 has suffered through injuries and a steady decline in production over the last few seasons.
Some may point to the team's focus on then Jazz PG Deron Williams and big man Carlos Boozer as primary offensive options after the retirement of John Stockton in 2003, as Kirilenko was Utah's go-to guy prior to bringing in the 2 All Stars to Great Salt Lake. He may have a point, since during the '03-'04 season, Andrei averaged an impressive 16.5 ppg, 8.1 rebounds, 3 assists, 2 steals, and nearly 3 blocks per contest.
Then his production dropped to 8.3 ppg, 4.7 rebounds, and 2.1 blocks in '06-'07 before his frustration culminated in a much publicized breakdown during the Playoffs that season. After statring for Russia in the 2007 European Championships, helping them earn the Gold medal with Andrei winning MVP, he asked to be released from his pricey NBA contract to return to Russia.
After a Summer of cooling off, Kirilenko eventually backed off talks of a return to Russia and has played good but not great over the past 3 seasons, showing off an improved jump-shot but but still has seen his numbers drop defensively, a supposed strong point in the past, to far below career averages.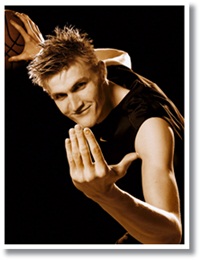 Outside of his outrageous new back tattoo he got after last season, AK-47 has been quiet heading into free agency once the NBA Lockout is officially over. With the Jazz selecting key pieces Enes Kantner and Alec Burks in this year's draft and most of the offensive focus now heaped upon big men Al Jefferson and Paul Milsap, along with incumbent PG Devin Harris, Kirilenko may be the odd man out.  In fact, many predict that Kirilenko may be one of the top targets in free agency.
But recent comments hinting at retirement and a rumor of his negotiating a return to Russia during the current Lockout may have some teams staying away from Andrei for fear of a lack of focus when it comes to playing in a new NBA city next season. In addition, he has missed 130 games over the past 7 seasons, equaling nearly 23% of games during that span. On the flip side, a renewed focus in a new system may be the ticket for the 6'9 and 230 lb former defensive standout to once again find his mojo as he ages gracefully into his 30's.
Kirilenko has stated that he will once again suit up for his native Russia in the 2011 Eurobasket Tourney but has hinted that he may ultimately retire after the event if his seemingly unending string of injuries don't allow him to play at 100% going forward.
Of course many people point to his epic last second fail against Denver late last season proving that AK-47 is no longer a go-to-guy, but Kirilenko undoubtedly still has the skills to be a very good NBA player and could prove to be a valuable complimentary player on a contending team, but does he lack focus?
What do you think, is AK-47 past his prime or just in need of a change of scenery?
Check out the ultimate AK-47 Highlight Mix:
Allen Moll has been a lifelong NBA and NCAA College Basketball fan who watches and studies games religiously, and coaches youth basketball in his native Lehigh Valley region of Pennsylvania.  Allen also provides content to Bleacherreport.com, Upperdeckblog.com, in addition to being a tenured NBA and NCAA columnist for TheHoopDoctors.com.