August 3, 2011 – Kevin Burke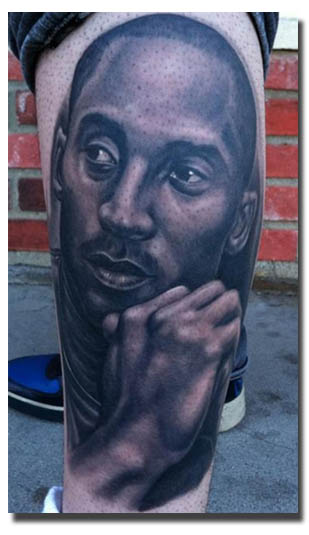 Ok, now I'm confused. Something very strange is going on in the world that I need help understanding. Apparently, it has become cool to get the face of complete strangers tattooed on your body. In the past handful of months, we saw someone get Dirk's face on his butt, LeBron's face (although it looks more like a drunk Jamal Mashburn) on his leg, and now Kobe Bryant.
But this isn't just any tattoo of Kobe. This guy decided to get a mural on his leg, complete with a right hand and everything. And it's very detailed, which makes me even more uneasy and confused. But aside from the obvious reasons which make this situation strange, the fact that this guy handed the tattoo artist a picture of a newly awaken Kobe baffles me too. It looks like Kobe is tired and just rolled out of bed. If he felt compelled to do something as ridiculous as this, wasn't there a picture available of Kobe where he looks more awake that he could've used? But if there's one good thing to take away from all of this, it helps in proving the resurgence of the NBA's popularity. I'm reaching, I know.
If you're looking for your everyday, predictable basketball talk, then go somewhere else, because Kevin Burke of The Kevin Burke Project brings provocative, thought provoking content about basketball as only he can. Kevin also hosts The Hoop Doctors weekly podcast show, which you can subscribe to for free on iTunes. Follow Kevin on Twitter and Facebook