May 4, 2011 – Allen Moll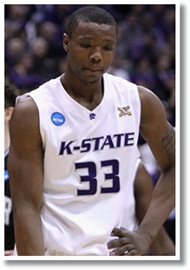 Just 2 seasons ago, Wally Judge was one of the most sought after high school players in the nation since he possesses a rare combination of size and athleticism that cannot be taught. In fact, he was the #4 ranked power forward and #15 overall prospect in the '09 Class. After flirting with offers from West Virginia, Pittsburgh, and Georgetown, Judge was won over by coach Frank Martin at Kansas State.
But after one and a half nondescript seasons in Manhattan, Kansas, Judge informed coach Martin in late January that he would be quitting the Kansas State program. Judge did have some issues involving pain in and around the spinal cord during his freshman campaign and underwent surgery to relieve pressure prior to his sophomore season.
Many expected the 6'9 and 230 lb big man to flourish in '10-'11 but everything didn't go as expected as the former McDonald's All American averaged a paltry 5.5 points and 3.8 rebounds in only 17 games as his minutes sagged. Judge was expected to be the eventual replacement for the few season removed former NBA Lottery pick Michael Beasley, who once starred for the Wildcats and helped put Kansas State back on the map.
While it's not really clear as to exactly why Judge left the program, it isn't a stretch to imply that the demanding style of play demanded by the intense head coach probably entered into the equation. Playing in the shadows of the immensely popular Beasley had to be a daunting task as well. Unlike the situation in Memphis this past season when the highly touted Jelan Kendrick was dismissed from the Tigers, nary any bad things could be said of Judge upon his departure. One train of thought suggests that Judge preferred to play the PF position to showcase his long range shooting prowess on pick-and-pops rather than Center, a notion that Coach Martin wanted no part of.
Over the past few weeks Judge has visited the Rutgers, Maryland, and Memphis campuses, with Kentucky also reported to be among his top choices. The former McDonald's All American is a Baltimore native so one would think that the Terrapins at least have a fighting chance to land the talented big man. They definitely could use another big man since the multi-talented Jordan Williams is projected as either a late 1st or early 2nd round pick in the upcoming 2011 NBA Draft. Of course, per NCAA rules, Judge will have to sit out the entire '11-'12 season, then have 2 more seasons of college eligibility remaining.
Check out Wally Judge's HS Mixtape (Wow!):
Allen Moll has been a lifelong NBA and NCAA College Basketball fan who watches and studies games religiously, and coaches youth basketball in his native Lehigh Valley region of Pennsylvania. Allen also provides content to Bleacherreport.com, Upperdeckblog.com, in addition to being a tenured NBA and NCAA columnist for TheHoopDoctors.com.