January 31, 2011 – Kevin Burke
After losing 6 straight, the Knicks have won 3 of their last 4 and look like they may have returned to their old form, from earlier in the season.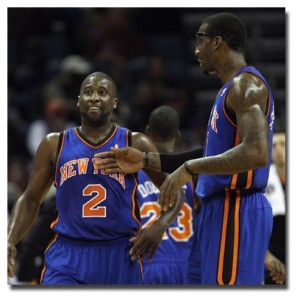 Housekeeping:
Record: 25 – 22
Streak: W1
2nd place in the Atlantic Division
6th place in the Eastern Conference
Team Leaders:
Points: Amar'e Stoudemire, 26.2
Rebounds: Amar'e Stoudemire, 8.8
Assists: Raymond Felton, 8.9
Steals: Raymond Felton, 1.9
Blocks: Amar'e Stoudemire, 2.2
Last week, Amar'e became the first Knick to be named an All-Star starter since Patrick Ewing held that distinction back in 1992. Early on in the voting, Kevin Garnett held down the spot for starting Power Forward, but with the help of some creative marketing by the Knicks, he rightfully surpassed KG. It will be odd to see a Knick in the All-Star game, let alone start. Last year, David Lee was named as a reserve when Allen Iverson wasn't able to attend, but before that it has been almost a decade.
But, enough of the mushy stuff. The Knicks took on the Wizards, Heat, Hawks and Pistons last week as the 'Melo trade talks thankfully died down a bit. A good team to face at home, when you're trying to break a losing streak is the Washington Wizards. Washington is a disgraceful 0 – 23 on the road this season and if the Knicks would've lost that game, I wasn't going to watch any basketball for the rest of the season. The three games prior to this one saw the Knicks score less than 100 points, which is very odd for them. They were able to pour in 115 against the Wiz, which is more like it. The game featured a good PG matchup between John Wall (18 points, 7 rebs and 9 assists) and Ray Felton (17 points and 15 assists) but Amare's 30 and 9 proved to be the deciding factor.
Then, came the much anticipated return to The Garden for the Miami Heat. LeHeat embarrassed the Knicks during their first visit where LeBron had a triple-double. Once again, Knicks fans felt the need to boo LeBron every time he touched the ball which makes no sense to me. He was never a member of the Knicks so he doesn't owe the franchise anything. Therefore booing him is pointless and lets him know that you care.
I don't want to hear that Bosh wasn't playing, or that LeBron had a bad ankle, or that Wade had a headache. Those are all excuses. The Knicks played a solid game against a formidable opponent and were able to pull it out. Gallo's clutch shooting was very timely. So was the fact that LeBron kept shooting even though he was off and Wade was on fire. Wade and LeBron didn't seem to be on the same page. The Knicks have beaten the Spurs, Heat and Thunder this year which is something to hang their hat on.
The Hawks got by the Knicks and I've come to realize that the Knicks don't matchup well with Atlanta. This is the second time the Hawks beat them this year, but the highlight of that game was the "dust up" between Shawne Williams and Marvin Williams. It wasn't really a fight. A lot was made out of not that much. Basketball is an emotional game, end of story. I am, however, surprised that ESPN didn't sensationalize it more than they did in typical "look what happened in the NBA" fashion.
The win against the Pistons was highlighted by Timofey Mozgov who went from starter, to being banished from the court. I never understood why he was starting in the first place and eventually, neither did Mike D'Antoni. Until yesterday, Mozgov hadn't played in nearly a month. He returned to the court in fashion with a 23 and 14 outing. He only played because Wilson Chandler was out injured and Shawne Williams was suspended but he sure made his presence felt. Having said that, I wouldn't put that much stock into that performance. I still couldn't be any less sold on Mozgov. I hope D'Antoni doesn't reinsert him back in the rotation because of this.
As for the Pistons, Madison Square Gordon struck again, with 35 points. This guy loves playing at MSG.  Almost makes you feel like they should try and sign him.
If you're looking for your everyday, predictable basketball talk, then go somewhere else, because Kevin Burke of The Kevin Burke Project brings provocative, thought provoking content about basketball as only he can. Kevin also hosts The Hoop Doctors weekly podcast show, which you can subscribe to for free on iTunes. Follow Kevin on Twitter and Facebook