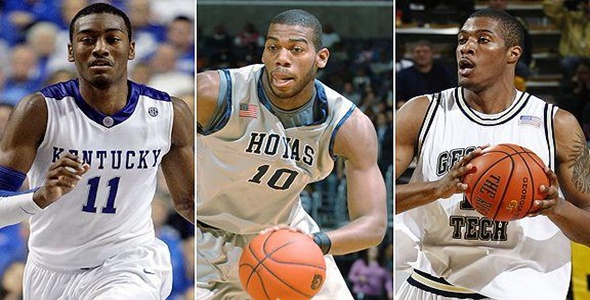 May 24, 2010 – Allen Moll
As the 2010 NBA Draft is only a little more than 3 weeks away, we unveil our newest Mock Draft: Version 7.0.  Now that the Draft lottery is set, it's probably a foregone conclusion that Washington and Philadelphia will select John Wall and Evan Turner numbers 1 and 2 respectively.  But virtually anything goes after that, since there has been a lot of movement on internet draft boards since the truth has come out concerning players' actual height, weight, and vertical leaping ability at the annual NBA scouting combine.
A number of players' stock has gone through the roof like Kentucky's Patrick Patterson, Nevada sharpshooter Luke Babbit, and international mystery man, the 6'11, 260 lb Kevin Seraphin, who is only 19 years old from France.   On the other hand, a number of players have caught the attention of NBA GM's for all the wrong reasons like UNC's Ed Davis, over concerns about his underwhelming offensive game, and Kentucky's DeMarcus Cousins, over continued concerns about his attitude, work ethic, and weight, since he checked in at nearly 300lbs.
 These are only my choices and not the consensus picks of all of The Hoop Doctors writers, with that said here is my 2010 Mock Draft:Version 7.0 – Top Prospects:
Draft Order
College Team
Projection
Position
Physical

1.

Was

Kentucky
John Wall
PG
6'4", 190 lbs
Wall remains as a no-brainer as the #1 pick. He has freakish quickness and can get to the rim at will. His most interesting attribute is his amazing ability to finish with his left even though he is right-handed. Agressive, unselfish, and intense at both ends of the floor and exudes immediate star power. Could use work on outside jumper. Also has potential to be elite level defender and can be a weakside shotblocker from the point guard position. Drafting Wall and sliding Arenas tothe 2 guard gives the Wiz a dynamic and play-making backcourt.  The hype of the John Wall dance in the nation's capitol will help them to quickly forget Gilbert's felony convictions.   Comparison: Derrick Rose

2.

Phi

Ohio State
Evan Turner
SG/SF
6'7″, 200 lbs
Turner can dominate a game like very few others in this draft using his high basketball IQ, athleticism, and being able to get to the free throw line with ease. Two pluses are his impressive mid-range jumper and the ability to create his own shot. His only downside is that although he is capable of knocking down an occasional three, it really isn't a major weapon in his arsenal. Wall is considered the better prospect because of a higher ceiling and since some feel that Turner may already be a finished project.  Could be a perfect fit at the 2 guard in Philly alongside emerging PG Jrue Holiday, giving them a much needed #1 option.  Allows Iguodala to slide to his natural SF position, if he is not traded.  Comparison: Brandon Roy

3.

NJ

Georgia Tech
Derrick Favors
PF
6'9", 240 lbs
With a ridiculous upside that rivals only Wall, Favors could be a lock as a 20-10 player at the next level because of a long wingspan, which helps make him an excellent shot-blocker and rebounder. Offensively, he has an excellent power game around the rim and can shoot comfortablyout to 15 feet, which could work well in the pick-and-roll heavy NBA but is far from a finished product.  Drafting Favors to play alongside the emerging Brook Lopez gives NJ a potentially lethal frontcourt for the future.  Comparison: Antonio McDyess

4.

Minn

Syracuse
Wes Johnson
SF
6'7, 195 lbs
Wes has prototypical size and skill to help right away at the SF position. At Syracuse, he showed the ability to do a little of everything but excelled in the open floor. Offensively he has 3 pt range but is average at best when it comes to ball-handling. Was sometimes to unselfish and is probably seen as a complimentary player in the NBA rather than a go-to-guy and needs to add weight. Has potential as a plus defender.  The Wolves have a lot of holes, so drafting the best available works with Johnson still on the board.   Comparison: Tayshawn Prince

5.

Sac

Kentucky
DeMarcus Cousins
PF
6'10", 290 lbs
Cousins uses his powerful core, nimble footwork, and a soft touch offensively to dominate the painted area like no other player in college this season. Although he plays a bit below the rim, the sky is the limit to his potential as a possible game-changer and 10 year All-Star. He has shown a propensity to fight authority but has gotten better as the season went on. Can score either facing or with his back to the basket.  "Boogie" has slipped on draft boards since he weighed in at a whopping 292 lbs with a combine high of 16% body fat.  Some GM's are concerned with attitude and lack of commitment.  Comparison: Derrick Coleman.

6.

GS

Wake Forest
Al Farouq-Aminu
SF/PF
6'11", 235 lbs
Aminu was wise to return for his sophomore season since he has greatly improved his draft stock by both proving he can score in other ways besides the dunk and by leading the Demon Deacons to the 2nd round of the NCAA Tourney. Another year in college would have done him wonders, but with the uncertainty at Wake concerning a new coach and stellar incoming recruiting class, the time was right for Al to leave. Needs to improve jumpshot and get stronger, but at only 19 yrs old is an intruiging prospect.  Aminu measured well at the combine with an amzing 7'4 wingspan, making him a possible scoring PF if he adds weight.   Comparison: Josh Smith 

7.

Det

Georgetown
Greg Monroe
PF/C
6'11", 240 lbs
 Monroe has the perfect make-up as a semi-athletic big man who can score, rebound, block shots, and pass like Tim Duncan out of the post. He could be a game changer, when he is motivated and focused. At times an enigma, Monroe came out of HS as a Top 5 talent and that remains, although there are questions about his work ethic and desire to be one of the best. Monroe could be a shot blocking presence that has been lacking in Detroit since Sheed and Ben Wallace left town.  Comparison: Marcus Camby

8.

LAC

Baylor
Ekpe Udoh
PF/C
6'9", 240 lbs
Ekpe has been flying up draft boards since pro teams are taking notice to an ever improving offensive game to match an NBA ready defensive presence. Once thought of as only an elite shot blocker, he has worked hard on being able to now be at least a threat with the ball around the basket by being able to score with his back to the rim and hit a mid-range jumper. Very athletic and has tremendous heart. A bit older than earlier prospects but is not yet a finished product. Although he barely measured 6-9, Udoh more than made up for his lack of height by having an amazing 7'5 wingspan.  He could provide an imposing frontcourt alongside Blake Griffin if the Curse doesn't get to him.   Comparison: Brook Lopez

9.

Utah

Kansas
Cole Aldrich
PF/C
6'11", 250 lbs
As a skilled 7 foot big man, Aldrich will help out immediately on the defensive side of the ball, but is limited offensively. Cole is smart to declare now since he has nothing more to prove at the collegiate level. Cole is a bit lacking in athleticism and lateral quickness, but relies on tremendous heart and toughness. Should block 2+ shots and snag 10+ boards on any given night.  He remains a perfect fit in the Jerry Sloan mold of big men, like Greg Oestertag before him.   Comparison: Joel Pryzbilla

10.

Ind

Kentucky
Patrick Paterson
PF
6'9", 240 lbs
Patterson has excellent size and skill-set for the NBA. He can score, rebound, and defend and was arguably the steadying force on a young Kentucky squad. He sometimes deferred to Wall, Cousins, and Co. and at times seemed to fall in love with the 3 point line, even though he is capable of knocking down a few treys. With a bit of a questionable work ethic, Patterson could either be a steal or a bust depending on the team and his motivation.  Patrick is a player on the way up after showing up at the combine with the perfect PF physique with a 7'1 wingspan and an impressive 5% bodyfat.  Comparison: Rasheed Wallace

11.

NOH

Marshall
Hassan Whiteside
PF/C
6'11", 225 lbs
Hassan has been both a breakout star and a mystery because of little TV exposure since his squad didn't make it to the NCAA's. Whiteside is this year's trendy, fringe lottery pick because of his ability to help an NBA club immediately on the defensive end. Tremendous potential as a 19 year old who led the nation in blocked shots and developing low post game which produced 3 triple-doubles this season. Because of his slight frame, he tends to get pushed out of the lane by bigger opponents, but has pick-and-pop ability out to 20 feet. Needs to add weight. Defense is way ahead of offense.  Hassan is a borderline lottery pick because of an impressive 5% body fat and a combine best 7'7 wingspan.  Comparison: Joakim Noah

12.

Mem

Nevada
Luke Babbitt
SF
6'8", 220lbs
Babbitt has been the talk of the pre-draft combine by impressing with his long length and near 5% bodyfat.  Despite only average athleticism, he is a volime scorer with a high release point, and achieved a rarety in college basketball: average 20+ppg, 9 rebs, shoot 50% from field, 90% on FT, and more than 40% from three.  He could be a sleeper of the draft if he is a team's #2 option, which is perfect for the Grizz, who already have Rudy Gay and OJ Mayo.  Comparison: Chris Mullen

13.

Tor

UNC
Ed Davis
PF
6'9", 220lbs
Davis has the tools to be a good NBA player: big body, long wingspan, decent mid range game, but hasn't shown the ability to dominate games as of yet. Shows excellent potential as an elite level rebounder and defender but his offense has not yet caught up to his defense. Has good hands, excellent basketball IQ, and can run the floor. Another year at UNC would have done wonders for Davis.  Davis could provide frontcourt help when or if Chris Bosh leaves in free agency.  Comparison: Al Horford

14.

Hou

Kentucky
Daniel Orton
PF/C
6'9", 270 lbs
As a shock to everyone, Orton decided to remain in this year's draft since his stock is skyrocketing based on an already NBA ready body and soft hands at the rim. Why return to Kentucky and risk injury? Although he is not a deserving 1st rounder with stats of 4 pts and 4 rebs, Orton has a prototypical NBA big body, who is projected as high as the #10 pick in some mock drafts. He is a bit of a mystery since he only played when Cousins was in foul trouble at Kentucky. With that being said, you can't teach size, and I don't doubt that some team will take a gamble on Orton.  Although he is nearly 2 inches shorter than Cousins, hid 7'4 wingspan more than makes up for it, but his 14% body fat is a concern.  Excellent insurance for free agent to be Yao Ming.  Comparison: Eric Dampier

15.

Mil

Kansas
Xavier Henry
SG
6'6", 210 lbs
Henry had a good but inconsistent season as he becomes the first KU player ever to be a one-and-done player. Xavier has prototypical size at the 2 guard position and could blossom into a perrennial all-star. Has the ability to score in bunches and will only get better. Could improve handles, is turnover prone, and go from just good to great on defense.  Down the line, has potential to be an absolute steal in he draft. Henry could provide instant offense to replace the always injured Michael Redd.  Comparison: Joe Johnson

16.

Minn

Int
Donatas Motiejunas
PF/C
6'11, 220lbs
Like any international player, Donatas is a bit of a mystery, but what little is known is that he is an extremely quick power forward who relies on finesse rather than strength. Motiejunas is a very skilled offensive player with imposing height that could be a match-up nightmare in the Dirk Nowitzki mold in a best case scenario, hence his high ranking. Has impressive range on his jumper out to the 3 pt arc but is very limited in lateral movement, and consequentially at this point, is a defensive liability. Drafting European may somehow help to bring Ricky Rubio to the US earlier than next season.  Comparison: Andrea Bargnani

17.

Chi

OK State
James Anderson
SG
6'5", 210 lbs
Anderson was arguably the best SG in the nation, as evidence of his making a number of 1st Team All American lists. He had an outstanding junior campaign where he averaged 22+ ppg and ranked among the Top 5 in the nation in scoring. He has the ability to drain buckets with an effortless release and scores as easily as anyone in the draft. Average at best defensively and with the dribble. If you want instant offense, Anderson is your man. Would be an excellent 2nd option offensively alongside Derrick Rose at the SG position.  Comparison: Danny Granger

18.

Mia

Washington
Quincy Pondexter
SF/PF
6'7", 230 lbs
As one of the best seniors in the nation, Pondexter projects as a pure scorer at the SF position in the NBA. He has made great strides in improving his overall game in his 4 years as a Husky and has arguably been the best player in a down PAC-10 Conference this season. Inside the arc, he is as offensively talented as any player in the draft because of a lightning quick first step, which allows him to create his own shot at will. Needs to improve 3 point shooting and playing off of the ball. In the right situation, he could be a steal. Excellent offensive support for D. Wade to stay in Miami.  Comparison: Rudy Gay

19.

Bos

Butler
Gordon Hayward
SF/PF
6'8", 215 lbs
Hayward's stock may never be higher as he helped lead his club all the way to the National Championship Game. Posessing a unique skill-set, Hayward has tremendous upside even though he is only a sophomore. He showed tremendous heart and leadership for taking the Bulldogs on his back. Gordon can get to the rim off the dribble or drain 18-20 foot jumpers with frequency. Could gain a little weight and improve long range shooting. Although I think it's a huge stretch, some experts have claimed he could be the next Larry Bird. Hayward could step in and play right away if Ray Allen is not resigned.  Comparison: Mike Miller

20.

SA

Fresno St
Paul George
SF
6'7", 185 lbs
George is one of those under the radar type players who possess prototypical size and build for a SF in the NBA, even though he has played a number of games at the PF position in college. While the jury is out on whether playing against WAC competition is a proper evaluation of his skills at the next level, he was the go-to-guy on a struggling team even though opposing teams game-planned against him. George has the ability and skill set to possibly be an all star caliber player for many years with his outstanding ability to shoot from way behind the arc. Needs to improve ball-handling, cut down on turnovers, and add bulk. The Spurs need some youth and offensive firepower to eventually replace the oft injured Ginobili.  Comparison: Paul Pierce

21.

OKC

Texas
Damian James
SF/PF
6'7", 225 lbs
James had one of the best careers in the history of the storied Longhorn program and should be one of the first seniors taken on draft day. Although Texas stumbled down the stretch, James was the one constant as a team leader. leading scorer and rebounder. Virtually no one plays harder than James and he has a game which appears that he is playing on a pogo stick. Some say he will never be a superstar but he has excellent work ethic and will never take a play off. Surely former Longhorn Kevin Durant will lobby to be reunited with his former teammate.  Comparison: Kenyon Martin

22.

Por

Florida St
Solomon Alabi
C
7'0", 240 lbs
As an early entry candidate as a junior, Alabi is the definition of raw. He brings immediate elite level shot blocking ability with above average mobility, and is extremely long and athletic. On the downside, his offense is virtually non-existent and is only average rebounder considering his immense size. Right now projects as a 2nd string big defender but could become a starter under the tutelage of a former scoring center, a la now coach, Patrick Ewing. Is a project and will not yield results for a few seasons. Perfect fit for a Portland squad who's patience is growing thin with the oft injured Greg Oden.  Comparison: Sam Dalembert

23.

Minn

Connecticut
Stanley Robinson
SF
6'8", 215 lbs
 Stanley has excellent size as an athletic 3 at the next level. As one of the most flashy and athletic players in the draft, he may also have the best hops as he finishes above the rim on seemingly every play and could be a Slam Dunk contestant next season as a rookie. Has worked hard at improving his jumpshot but remains a slasher and is at his best getting to the rim. Rebounds well despite a thin frame. Possible sleeper if he continues to be aggressive and work on his game. Possible replacement for the underachieving Corey Brewer.  Comparison: Nicolas Batum

24.

Atl

Memphis
Elliot Williams
SG
6'4", 180 lbs
After playing sparingly in his lone season at Duke as a former highly touted HS recruit, Williams excelled as the primary scorer for a ravaged Memphis team.  While he wasn't able to get the Tigers to the NCAA Tourney, he did get to showcase his skills to NBA scouts with averages of 18 ppg, 4 ast, and 1.3 steals.  Williams is regarded as the 3rd best SG option in the draft behind Anderson and Henry.  Must develop his right hand.  He could step in right away in Atl if Joe Johnson doesn't return.  Comparison: Lou Williams

25.

Mem

Kentucky
Eric Bledsoe
PG
6'1", 195 lbs
 Has prototypical NBA PG body but the jury is still out on whether Bledsoe can run the point, but has an excellent upside since he was almost as highly touted as his teammate Wall coming out of HS. Appears to have tremendous quickness and open court skills which bodes well in an up-tempo style offense. Although his offense was a bit sporadic during the season, he showed just enough firepower during the post-season for an NBA team to make a project out of him. Must improve ballhandling and cut down on turnovers.  Has huge hands and despite diminutive height, has a 6'8 wingspan, which could make him an excellent defender.   Heir apparent at PG if Conley doesn't develop.  Comparison: Jonny Flynn

26.

OKC

Texas
Avery Bradley
PG/SG
6'3", 180 lbs
After coming out of HS as the #1 prospect in the entire '09 class, Bradley showed signs of his tremendous upside as a future NBA player. Problem was he was widely inconsistent. Even though he was a prime candidate of improving his stock by returning for his sophomore season, Bradley decided to remain in this year's draft even though he still has a shaky jumpshot. On the upside, he showed excellent ablility to get to the rim, is in his element in the open floor, and has the potential to be an elite level defender. Great back-up PG and instant offense off the bench for the Thunder.  Comparison: Monta Ellis

27.

NJ

South Florida
Dominique Jones
SG
6'5", 215 lbs
Jones isan NBA ready combo guard who can light up a scoreboard on any night. He was arguably the Big East's most potent scorer because of a quick first step and the ability tocreate his own shot. Fits well in modern NBA where teams have multiple back-court ballhandlers. Is well put together evin if a bit undersized at 6'4. Is average at best defensively but has intangibles like tremendous heart to be a solid pick.  Immediate offensive help at the 2 guard on the rebuilding NJ Nets.   Comparison: Will Bynum

28.

Mem

France
Kevin Seraphin
PF/C
6'9", 260 lbs
After Jan Vesely decided to stay in Europe to hone his skills, Seraphin has become the next intruiging international player who is only 19 years old, and posesses excellent leaping ability and is excellent in the NBA heavy pick and roll situations. Has only played limited minutes, but some NBA club may take a chance on making him a project since he impressed at the Nike Hoops Summit recently.  The Grizz need some size up front after last year's lottery pick Thabeet is looking like a bust.  Comparison: Louis Scola

29.

Orl

Xavier
Jordan Crawford
SG
6'4", 200 lbs
Crawford had an excellent sophomore season forthe Musketeers which began by dunking on Lebron James last Summer. But he is much more than that. He is the rime beneficiaries as one of the great performers in this year's NCAA tourney where he averaged 29 ppg and led his squad deep into the 2nd weekend. Has excellent range on his jumpshot and an excellent first step but must improve ballhandling, passing, and defense.  Could provide instant offense off the bench with JJ Redick testing the free agent waters.   Comparison: Monta Ellis

30.

Wash

Xavier
Willie Warren
SG
6'3", 210 lbs
Not many players have taken a bigger hit than Warren this season. If he had come out after his freshman season, he may have been a lottery pick, now some predict he may slide into the 2nd round even though he has the pure athletic ability to be a star at the next level. Despite a lack of size, Warren projects as a prolific scoring SG in the mold of Ben Gordon since he has excellent range out to 30 feet, and is at his best creating his own shot off the dribble. His stock has dropped considerably after numerous squabbles with the coaching staff at OU, an ankle injury that has been slow to heal, and a bout of mono which limited his playing time late in the season.  Excellent change of pace behind Arenas in Washington.  Comparison: Ben Gordon
2nd Round Players on the Rise:
Artisom Parakhouski, Radford, 6-11, 260 lb – Although the average fan hasn't heard of him, the Belarus native was quietly one of the most productive players in all of the college ranks last season but got little exposure playing for Radford. he ranked among the nation's leaders in scoring and rebounding and played wellagainst fellow prospect Cole Aldrich in the non-conference schedule. His biggest asset is size and he used it to his advantage on the collegiate level. Above average all around talent but needs to develop a go-to-move in the post against NBA opponents.  Excellent showing atthe combine with a 7'1 wingspan and had only 4% body fat. 
Larry Sanders, VCU, 6'10, 225 lbs – Larry has been on NBA scouts radar for the past two seasons because he projects as a very good defensive big man at the next level.  although not extremely athletic, he measured out as having one of the best wingspans(7'5) and standing vertical leap of almost any other player at the combine, which translates into possibly being an elite level shot-blocker. 
Terrico White, Ole Miss, 6'5, 215 lbs – While another year in the SEC would have helped his draft stock, White chose to remain in this year's draft since he is considered a fringe 1st round selection. He has terrific all around talent but has focused on taking every available shot by leading his Ole Miss squad on a deep NIT run after missing the NCAA's. Although he posesses one of the best mid range games of anyone in the class, he still hasn't learned how to get to the foul line which is a must in the NBA.  Had lowest bodyfat of any player at the combine at 3.7%
Gani Lawal, GT, 6'9, 230lbs – On a stacked young GT roster, Lawal was the elder statesman on a squad which made a nice NCAA Tourney run. He is an excellent rebounder and defender although is considered only average offensively. Can play either forward spot but must improve ballhandling and jumpshot. Has prototypical size and length for the next level.  Excellent combine stats of 7'0wingspan and 6% body fat. 
For more Mock Drafts from all sorts of Blogs and Analysts check out The Hoop Doctors 2010 NBA Mock Drafts Database!