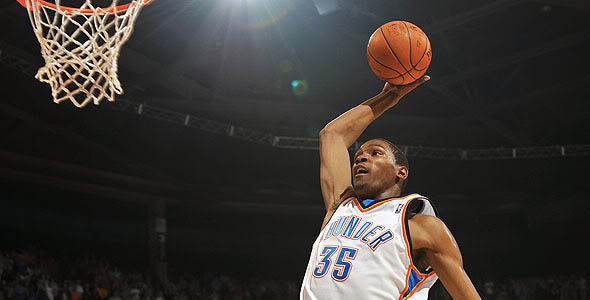 April 15, 2010 – Dr. J-Water
Kevin Durant can get buckets. After a couple solid seasons it feels like Durant has an absolutely unstoppable offensive game. He is a lethal outside shooter with limitless range, he has a quick first step and great handles for a guy his height, and he is super long with great jumping abilities. That combination strikes fear into defenders league wide. If he has any weakness at all, his strength has been called into question numerous times. He's a bit on the thin side. Then again so was Michael Jordan his first few years in the league.
We've got to remember Durant is only 21 years old. It's hard to believe considering he just locked up the NBA Scoring Title last night with 31 points against the Grizzlies to lead the Thunder to yet another win. Durant finished the season with a 30.1 points per game scoring averge.
"It's something I really wasn't coming into the year saying I wanted to get but it feels good to be a part of history and something I'm going to always remember," Durant said. "It feels even better to get 50 wins."
Durant had the scoring title all but locked up after a late-season surge that included three 40-point games in April. It became a certainty when Cleveland decided to rest reigning MVP LeBron James(notes), the only player with even an outside shot at catching Durant.
The 21-year-old finished with an average of 30.1 points, 0.4 ahead of James, and supplanted 22-year-old Max Zaslofsky of the 1947-48 Chicago Stags as the youngest scoring champ in NBA history.
"I love Kevin Durant. I love what he's about," Thunder coach Scott Brooks said. "The guy is pretty amazing, that he's able to handle himself at such a young age.

"This is the only time I will say that he's young. He's 21 years old but he handles himself with such class and respect for the game, and he's a great teammate." {via}