April 1, 2010 – Allen Moll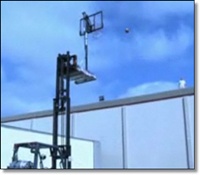 Everyone loves a good trick shot video. We, here at The Hoop Doctors are no different, since we have shown a number of hidden gem trick shot videos of thrill-seekers making shots off of rooftops, moving cars, and even trampolines. One of my all-time favorites has to be from the self proclaimed number one trick shot artist known as Dude Perfect, who hit a number of trick shots while swinging from a trapeze and even while riding on a jet ski, just to name a few.  But there may be a new entertainer aiming at the top spot in the world of trick shots.
We've stumbled onto an amazingly entertaining video from David Kalb, who is perhaps best known for beating Lebron James in a game of H-O-R-S-E back in 2008. In his most recent video, he really uses his imagination to nail four of the most ridiculous trick shots we've ever seen, including hitting a shot from a rooftop that goes into not one, but two rims, all on the same shot.
Unlike some other trick shot videos where kids have too much time on their hands in rich neighborhoods and are seen shooting over luxurious swimming pools or guest houses, these shots are for the working man since they all involve either a forklift of tractor trailer. My favorite is the no look, off the wall, and over the trailer, nothing but net shot.
Check out the video:

One Guy Hits Four Amazing Trick Shots – Watch more College Hoopla
Allen Moll is an avid NBA and College Basketball fan who watches and studies games religiously and coaches youth basketball in his native Lehigh Valley region of Pennsylvania.  Allen is a regular columnist for thehoopdoctors.com, Bleacherreport.com, UpperDeckblog.com, and his own site, Hoops Haven.