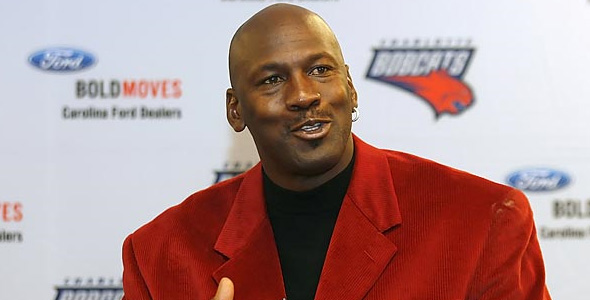 February 3, 2010 – Dr. Anklesnap
Michael Jordan, aka 'The GOAT', is one competitive dude. Whether it was on a basketball court or in the business world the man just hates to lose. That's why his current situation will test his business acumen, and his will to succeed in turning the Charlotte Bobcats into a legitimately good team. Jordan has been with the Bobcats in an executive position since 2006, but only this season with Jordan in the position of President of Basketball Operations have the Bobcats finally turned the corner. With a plus .500 record and current seeding of 6th place, the Bobcats finally have a shot at making the playoffs for the first time in their short 6 year franchise history. And what does MJ get for all his hard work in rebuilding the roster and coaching staff in recent years?
A possible firing….
When Jordan signed his current contract with the Bobcats as part-owner and head of basketball operations he negotiated a right of first refusal if the team decided to sell. Well that time has come apparently to exercise his option to buy the team outright as the Bobcats have received a strong offer they may not be able to refuse. Here is what was reported on ESPN today regarding the situation:
It's no secret that Charlotte Bobcats owner Robert Johnson has been trying to sell his franchise, and multiple league sources have told ESPN.com that he should get his wish by March.

Former Houston Rockets president/CEO George Postolos — whose first attempt to purchase the team, according to the Charlotte Observer, fell apart last summer — has made a new offer that Bobcats president Michael Jordan has until the end of February to match, according to sources.

League officials in New York, when asked about the state of the Bobcats' sale, declined comment.

Jordan negotiated a right of first refusal after Johnson made it clear he intended to sell the team, according to a team source. But it was not immediately known whether the group of investors Jordan has assembled has the wherewithal or inclination to match Postolos' offer.

One source close to the situation told ESPN.com that Postolos does not plan to retain Jordan or his staff if he is successful with his bid.
He had a rocky start with the Bobcats and made some terrible decisions surrounding draft day. Although, none of which was as renowned as his decision to draft Kwame Brown with the first overall pick during his time with the Washington Wizards. But within the last year he has quietly made some significant moves to improve the roster and coaching staff and finally turn the Bobcats into a playoff team that Charlotte fans have been craving for years. Most recently his decisions to move the undersized and offensively challenged Okafor, aquire a leader in Stephen Jackson, and put HOF'er Larry Brown at the helm as head coach have made all the difference. I hope Jordan either matches the offer for the Bobcats, or at the very least is retained as head of operations upon the sale of the team to give MJ his much deserved chance to see things finally turn around in Charlotte under his direction.