January 28, 2010 – Allen Moll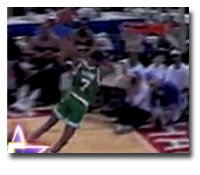 Everyone loves the Sprite Slam Dunk Contest during the NBA's All-Star Weekend. Some fans even think it is the marquee event of the entire weekend, including the actual All Star Game on Sunday. Or at least it used to be.
The NBA recently announced the field for this season's contest which makes us once again long for season's past where dunkers used imagination and we saw legendary battles between some high flying NBA superstars.
We all miss Michael Jordan's dunk from the foul line, Dee Brown pumping up his shoes and giving us the first no-look dunk, and Cedric Ceballos' pulling off a jam while (ahem)blindfolded. We miss JR Rider doing the Eastbay dunk, Vince Carter almost tearing the rim down and telling everyone it's over, and Dominique Wilkins shaking the goal's foundation with his two-footed windmill slams.
What we get is another bland event where contestants not only appear to have trouble coming up with new ideas but have borrowed the past by trying to duplicate what the pioneers have already done before them.
For those that would like to reminisce about the past, here is a video of Dunk Contest Firsts:
Allen Moll is an avid NBA and College Basketball fan who watches and studies games religiously and coaches youth basketball in his native Lehigh Valley region of Pennsylvania. Allen is a regular columnist for thehoopdoctors.com, Bleacherreport.com, UpperDeckblog.com, and his own site, Hoops Haven.