January 14, 2010 – Allen Moll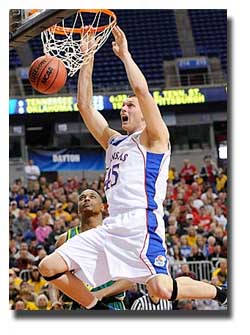 Allen Moll is an avid NBA and College Basketball fan who watches and studies games religiously and coaches youth basketball in his native Lehigh Valley region of Pennsylvania.  Allen is a regular columnist for thehoopdoctors.com, Bleacherreport.com, UpperDeckblog.com, and his own site, Hoops Haven.
The Kansas Jayhawks have arguably the most imposing defensive presence in college basketball in the form of Junior Cole Aldrich. At 6'11 and 270 lbs, Cole intimidates opposing players on their way to the basket and is among the NCAA leaders in blocks(3.7 bpg) and rebounds(10.5 reb). He helps jump-start the Jayhawks offense with his shot altering defensive play, turning blocks and rebounds into fast breaks for his back court teammates Sheron Collins, Brady Morningstar, and Tyshawn Taylor. In fact he is such a good defensive player that he has commited 4 fouls in a game only once all season.
Although Aldrich is considered one of the best players not only for Kansas but in the entire nation and is a probable lottery pick in next season's NBA Draft, he has an obvious weakness: Offense. You could say he is offensively challenged since his is averaging a paltrey 10.5 ppg this season and finished with a career best 11.1 ppg last season, with most of his points coming off of offensive rebound put-backs and tip-ins.
Even with his scoring deficiencies, the Jayhawks may want to get the ball into their big man's hands if they need a long distance score with time running out since it appears that Aldrich has another hidden talent: Half Court Shots.
In this amazing video, watch as Cole along with the team video engineer, team manager, and a walk on player are apparently bored and decide to have a half court shooting contest with Aldrich (#45 in the video) going first. Coles swishes his attempt and the other three players follow, unbelievably hitting nothing but net. Watch Cole's excited reaction after each successive shot goes in. Save some energy for the game big fella!
When the game is on the line in March Madness, I want Cole taking the shot.
Check out the Video: