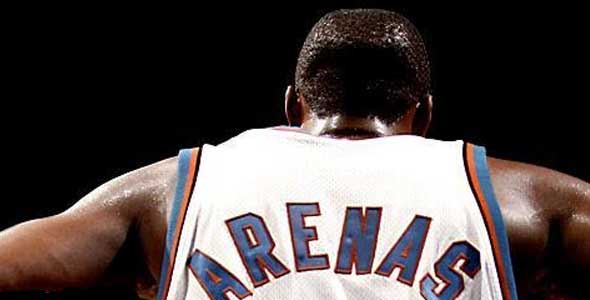 January 4, 2010 – Allen Moll
Allen Moll is an avid NBA and College Basketball fan who watches and studies games religiously and coaches youth basketball in his native Lehigh Valley region of Pennsylvania. Allen is a regular columnist for thehoopdoctors.com, Bleacherreport.com, UpperDeckblog.com, and his own site, Hoops Haven.
A few Wizards players have more to worry about than the NBA's upcoming trade deadline since Gilbert Arenas and Javaris Crittenton are under investigation by both local Washington DC authorities and the FBI because of an altercation between the two players over a gambling debt which escalated into gun play.
In what is becoming an increasingly puzzling story, Arenas was originally thought to be the only one involved in an incident that was first reported when a Verizon Center employee found weapons in a locker on Christmas Eve. When the incident first was reported by the New York Post, Gilbert Arenas stepped forward and claimed that the guns were his and he stashed them in an arena locker because he didn't want the weapons in his home near his young children. Sounds logical, but wait……………it gets better.
On Friday, DC Metro Police discovered that an altercation between Arenas and Crittenton had occurred over a supposed gambling debt of up to $80,000 dollars, over a game of cards, that was owed by Arenas. During the players' heated exchange, Arenas supposedly got three handguns out of a locker and asked Crittenton to pick his poison of which gun Gilbert was going to shoot him in the kneecap with.
It is unclear how the situation was diffused, but although it is not unusual for Arenas to gamble with teammates on anything from Playstation tournaments to card games, virtually everyone doesn't believe that he would point a gun at another player. He reportedly always settles his high stakes friendly wagers, as evidence of him paying up on a debt last season to a teammate who purchased a new luxury car and had money left over.
Both players could be facing stiff penalties from not only the NBA and the Wizards but from DC Police and even the FBI. FBI officials are involved anytime an incident involving guns or weapons is reported within the Washington DC city limits because of it's proximity to Federal buildings. Also, according to the players' collective bargaining agreement, players are not allowed to have weapons of any kind on team or NBA property.
My first instinct is how stupid both these players are. Why would multi-millionaire players be involved in gun play aimed at each other like an old Western movie? Is this the real story, or another fabrication to hide the truth? Why would Gilbert not be able to afford to pay off his debts?
On Saturday morning, Gilbert poked fun of the whole situation on his Twitter account by posting that he is the "new John Wayne." Apparently Gilbert is either a slick gangster who totes a gun or he keeps guns on hand in case he runs into Shaq, who has reportedly been having an affair with his pregnant fiancee.
All joking aside, Gilbert should take the situation much more seriously since if proven true, the Wizards could invoke a morals clause in his $111 million dollar contract, which would void the remainder left of the 4+ years of the six year deal he signed last Summer. In a situation similar to Tracy McGrady in Houston, the Wizards may be quick to try and recover the millions of dollars lost on Arenas because of injuries which limited him to missing essentially most of the past 3 seasons.
In a related incident involving a player from the NFL's New York Giants, Plaxico Burress was sentenced to jail time for taking a loaded handgun into a nightclub and accidentally shooting himself in the leg. He also faces a significant league suspension upon his attempt to return to the NFL. Could the same be in store for Arenas?
Could we have seen the last of Agent 0 in Washington?