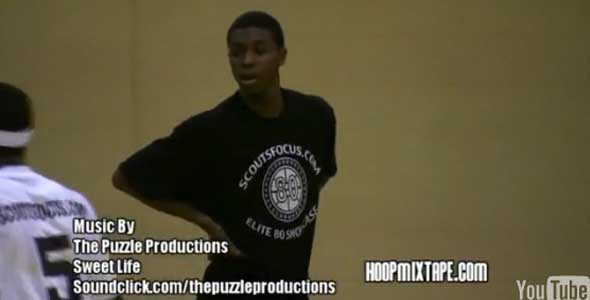 November 3, 2009 – Allen Moll
Allen Moll is an avid NBA and College Basketball fan who watches and studies games religiously and coaches youth basketball in his native Lehigh Valley region of Pennsylvania. Allen is a regular columnist for thehoopdoctors.com, Bleacherreport.com, UpperDeckblog.com, and his own blog, Hoops Haven .
At 6'6 and 195 pounds, Andrew Wiggins is literally and figuratively, a man amongst boys to his Middle School opponents and teammates. Wiggins has the size and game to probably be playing at the Division 1 collegiate level this season, but the NCAA will have to wait until at least 2014 to see the hard-court phenom in action since he is only 13 years old.
Although he is a native of Canada, Andrew has begun to make his presence felt across the US hoops landscape by showcasing his talents recently at the Scouts Focus Elite 80 Showcase which was held on the campus of Barton College in North Carolina. The showcase features some of the top seniors in the nation as well as a select few 8th and 9th graders. Amazingly, he already has a 36 inch vertical leap and wears a size 14 shoe. As for his game, he has college recruiters already lining up since he possesses great handles and has an already polished arsenal of drop steps and shoots jump hooks with both hands. As you could imagine, he regularly backs players down in the low post and shoots over smaller players his age. His coach for his AAU team, Canada Grassroots, thinks Andrew may be the best player he has ever seen at his young age. That's saying allot since some of the top NCAA players have come through his program like, former UConn star Denham Brown, and current HS Class of 2010 Top 20 ranked players Tristan Thompson and Cory Joseph.
Upon doing some research, Wiggins definitely has the athletic genes to go far in this game since his father is Mitchell Wiggins, who had a long professional basketball career playing in the NBA and European leagues, and his mother, Marita Payne, was a former Olympic track star for Canada. Both were stars in college at Florida State. Remember the name, we will definitely hear more of it in the future.
Check out some footage of Master Wiggins:
He has already been unfairly compared to Charlotte's Tyson Chandler. Here is some footage of Chandler in middle school: