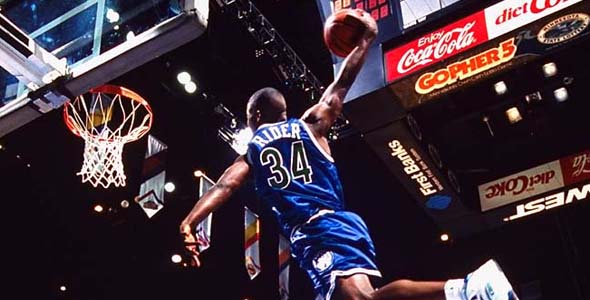 September 9, 2009 – Allen Moll
Allen Moll is an avid NBA and College Basketball fan who watches and studies games religiously and coaches youth basketball in his native Lehigh Valley region of Pennsylvania. Allen is a regular columnist for thehoopdoctors.com, Bleacherreport.com, Fanhuddle.com as a NY Knicks and Wizards correspondent, and his own blog, Hoops Haven.
In what seems to be a re-occuring theme during the dog days of Summer for NBA news, yet another former NBA talent is apparently trying to make a comeback playing professionally. Former Slam Dunk Champion and NBA bad boy Isaiah "JR" Rider is set to sign a deal with the North Texas Fresh of the NBA ABA. Rider has last played in the NBA for the Denver Nuggets in 2001.
Rider is equally known for his his highlight reel dunks as well as his penchant for insubordination toward coaches and getting into trouble with the law.
Many of his good moments came early in his career. After garnering 2nd Team All-American honors during his senior season at UNLV, the Minnesota Timberwolves selected Rider with the 5th pick in the '93 NBA draft. He bursted onto the NBA landscape with a flare for the dramatic, by averaging 16.6 points and earning a spot on the All-Rookie Team. His time to shine was at the '94 Slam Dunk Contest at All-Star weekend. He pulled out the victory over Shawn Kemp and Robert Pack in the Finals by taking the ball between his legs while in mid air and throwing it down. He affectionately named it the now famous "East Bay Funk Dunk". Charles Barkley called it "The Best dunk he had ever seen". During a game against Sacramento in '95, while chasing a loose ball out of bounds he flipped the ball towards the basket and it miraculously went in. The play was dubbed by many as the "Play of the Decade" and won an ESPY Award for Play of the Year. The '94-'95 season was probably his best since he finished among the league leaders in scoring at 20.4 points. He proved to be one of the game's best scorers through 2001 by averaging between 16 and 20 points each season. His last meaningful NBA minutes were for the '01 World Champion Lakers even though he was left off the playoff roster.
Rider's bad times sometimes outnumbered the good. Even while at UNLV, he spent a night in jail for abusing a female worker on campus at a drive thru. He immediately clashed with Minnesota management, especially Coach Bill Blair, by missing his first NBA practice with the Wolves and earning a suspension. Over his next two seasons with the Wolves, Isaiah continued his bad behavior by being arrested on assault charges for kicking a female manager of a night club, possession of marijuana, possession of an illegal cell phone which charged calls to another bill, and arrested for gambling in public back in his hometown of Oakland. Despite his talents, Minnesota grew tired of his antics and traded Rider to the Portland Trailblazers. In his 3 years in Portland he was suspended 12 games and arrested for marijuana once again. Portland then sent Rider to Atlanta where he again had numerous misdemeanor charges for marijuana, had disputes with management, and showed up for games late. Finally, the NBA intervened and ordered him into substance abuse therapy. Rider refused and was fined $200,000 for each meeting missed. The Hawks then gave Rider his outright release after he refused a 3 game suspension. Phil Jackson then gave him a chance with the LA Lakers, but his skills had apparently deteriorated by only averaging 7.6 points. He then played only 10 games for the Nuggets in '01.
No one ever new what was in Isaiah Rider's head during his playing days and I'm sure no one does today by attempting to play professional ball again after an 8 year layoff. He should quit while he can before tarnishing his image any more and let us remember him for those two memorable events, which are arguably two of the best plays of the past 20 years.
Check out Isaiah Rider's most memorable moment in dunk history:
1994 Dunk Contest – "East Bay Funk Dunk"