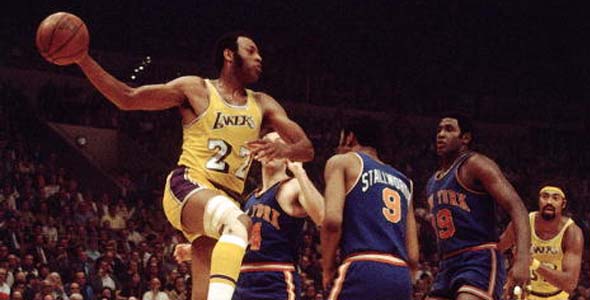 September 16, 2009 – Allen Moll
Allen Moll is an avid NBA and College Basketball fan who watches and studies games religiously and coaches youth basketball in his native Lehigh Valley region of Pennsylvania. Allen is a regular columnist for thehoopdoctors.com, Bleacherreport.com, Fanhuddle.com as a NY Knicks and Wizards correspondent, and his own blog, Hoops Haven.
Elgin Baylor, one of the game's best players, was born on September 16th, 1934. He his regarded as one of the NBA's all-time greatest players and was inducted into the Naismith Memorial Basketball Hall of Fame. Baylor delighted fans in LA and league wide with his patented hanging jumpshots and running bank shots over much taller defenders. He is also known as possibly the best shooting forward the game has ever seen. Although only 6'5, he dominated by being very versatile in that he could shoot like guards and post up against some of the game's best big men, like Bill Russell.
Elgin was born in the nations capitol, Washington, D.C. Although a talented star at Spingarn HS, he struggled with academics and even dropped out to work at a furniture store. In spite of bad grades, Baylor received a scholarship to the College of Idaho. When Idaho got rid of scholarships after his Freshman season, he was granted another scholarship to Seattle University. He played for an AAU team in Seattle while sitting out a year to secure NCAA eligibility. In his junior season, he led the tiny Seattle Chieftains to the '58 NCAA Championship Game, losing to Adolph Rupp's, Kentucky Wildcats. Baylor left for the NBA after 3 seasons in college, exiting as one of the few collegiate players to amass 2000 points and 1000 rebounds, and averaging more than 31 ppg.
The Minneapolis Lakers drafted Baylor as the #1 pick in the '58 draft. He is regarded by most as the savior for the Lakers franchise which had finished a dismal 19-53 after the glory years of the NBA's first superstar, George Mikan were over, and had trouble drawing fans to games. As a rookie, he finished 4th in scoring at 24.9 ppg and 3rd in rebounding at 15.0, and 8th in assists at 4.1. He immediately rejuvenated the Lakers franchise by carrying them to the Finals, and even scored 55 points in a game during that rookie season which ranked 3rd at the time.
Baylor's career really took of after the franchise moved to Los Angeles in 1960. During his third season and first in LA, Baylor averaged 34.8 ppg, finishing 2nd to Wilt Chamberlain's 38.4. In one magical game on Nov 15th, 1960, he tallied 71 points, which was a record at the time, and grabbed 25 rebounds. Baylor(38.8 ppg) and Jerry West(30.8 ppg) formed the league's best duo in '61-'62 where the Lakers made it to the Finals only to lose to Bill Russell's Celtics, which would become a familiar outcome since the Celtics won 11 titles over 13 seasons through 1969. In Game 5, he scored 61 points which was a playoff record until Michael Jordan broke it with 63 points against the Celtics in '86. In '63, Baylor became the first player to finish in the top 5 in four major categories, scoring, rebounding, FT%, and assists.
After developing knee problems in '62-'63, he seemed to lose a step, and although he never again scored more than 30 ppg, he had 5 more All-Star selections and averaged 24+ ppg through 1966. Even pairing with Wilt in the '68-'69 season wasn't enough for Baylor and the Lakers, since they lost in the Finals again to the mighty Celtics. Baylor retired after 9 games of the '72 season because of another knee injury at age 37. Ironically, the Lakers won 33 straight games en route to winning the NBA title that season. He was unfortunate in that he played in the same era as Wilt, who was the game's best player, and Bill Russell, who proved to be the game's winningest player with the Celtics.
He had a short year stint as a coach of the New Orleans Jazz before stepping down in 1979. He then became Vice President of basketball operations of the LA Clippers before resigning in '08 at age 74.
Elgin Baylor was an 11 time All-Star, 10 time All NBA Team Selection, named to NBA's 50 Greatest Players in '96, NBA Rookie of Year('59), 4th best all-time scoring average(27.4), 4th all-time in 40 point games(87), 6th in NBA Finals scoring(26.4) including a current record 61 pts('62), holds 6th best single season rebounding season at 19.8('61). Unfortunately he never won an NBA title.
Baylor was one of the last great undersized forwards in a league where many guards are now his size or bigger. It is a shame that Baylor played before Internet and and television exposure, since not many of his acrobatic moves and amazing scoring prowess are caught on video. Many former teammates and opponents agree that he was the Julius Erving or Michael Jordan of his generation. No doubt that today he would have his own line of shoes and have his face all over television commercials and cereal boxes.
Here is some vintage footage of Elgin Baylor's NBA record 61 points in the 1962 Finals: