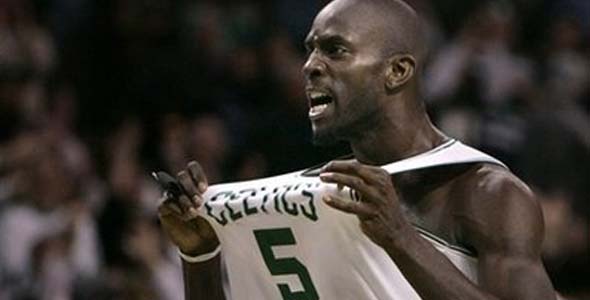 September 17, 2009 – Allen Moll
Allen Moll is an avid NBA and College Basketball fan who watches and studies games religiously and coaches youth basketball in his native Lehigh Valley region of Pennsylvania. Allen is a regular columnist for thehoopdoctors.com, Bleacherreport.com, Fanhuddle.com as a NY Knicks and Wizards correspondent, and his own blog, Hoops Haven.
Which NBA players empty their tank and leave it all on the court? Who wears their emotions on their sleave? Which player sacrifices their body for their team? During the 80's and 90's, I remember Michael Jordan beating Cleveland with a last second shot over Craig Ehlo and celebrating by fist-pumping in the air, Dennis Rodman sacrificing his body by diving into the 3rd row to save a loose ball, and Alonzo Mourning intimidating players by getting in their faces after blocking shots. Few players showed their emotions like those three players in the last 25 years. In today's NBA world, who are the most passionate players in the game today? Whether it is diving for a loose ball, celebrating after a big block, or throwing down an emphatic dunk over the other team's best player, these players give everything they've got to help, and sometimes hurt, their respective teams.
Honorable Mention
Nate Robinson, Kenyon "K-Mart" Martin, Carmelo Anthony, Kobe Bryant – All three players let their emotions get the best of themselves by regularly ranking among the league leaders in technicals, flagrant fouls, and ejections. Anthony is the only one who's good outweighs the bad for their teams.
10)Stephen Jackson(GSW) – He proved he is one of the most emotional players in the NBA by losing control during the Pacers-Pistons brawl in '04. He was 2nd in technical fouls, with 18, and led the NBA with 3 ejections in '08-'09. He even was ejected in a '07 playoff game for applauding his teammates taunting a referee during Golden State's upset series win over the Dallas Mavericks.
9)Chris "Birdman" Andersen(DEN) – The "Birdman" seems to be the Nuggets version of Red Bull, since whenever he steps onto the court, the team's energy level goes up. Even though he played only 20 mins/gm, he showed his passion by leading the league in blocks per 48 minutes(5.68). he also has some of the most unique tattoos and big play celebrations by folding his arms and flapping his hands like wings of a bird, after a dunk or block.
8)Paul Pierce(BOS) – Pierce's passion for the game and self confidence is often mistaken for arrogance to those who are casual spectators. He will do whatever the Celtics need, even sacrificing a little scoring to help win Boston another NBA title, like in 2008. Who could doubt his passion when coming back from injury, in game 1 of the '08 Finals, to score 15 third quarter points on his way to Finals MVP.
7)Ron Artest(LAL) – Everyone now knows that Ron-Ron has trouble controlling his emotions. Most of the time they get him into trouble like when he jumped into the stands, along with Jackson during the Pacers-Pistons game brawl in '04, and is always one of the league leaders in flagrant fouls, technicals, and ejections. His passion and emotions are also what makes him the most fearless defender in the league.
6)Amare Stoudemire(PHO) – Few players play the game with as much passion and ferociousness as Stoudemire. Since winning Rookie of the Year in '03, he shows his emotions whenever dunking the ball or blocking a shot. He has used sheer determination and passion to get back to All-Star form after microfracture surgery in '05. He once again shows heart by coming back from an eye injury to play in '09-'10.
5)Gerald Wallace(CHA) – With a nickname like "Crash", how could Gerald not be on this list. Perhaps more than any other player in the league, he sacrifices his body for the sake of his team. He has suffered through numerous injuries like concussions, fractured ribs, and even a collapsed lung from his sometimes out of control, energetic style of play.
4)Rasheed Wallace(BOS) – For years, "Sheed" has been an overly emotional player. We got a glimpse of his volatile personality early on, when he became the only player ever to be ejected from the McDonalds All-American Game. Known as the "Walking Technical Foul" by NBA officials, Wallace is annually among the leaders in technicals and ejections. Although it seems he has toned down a notch, he once again led the NBA in techs with 19, last season.
3)Joakim Noah(CHI) – We all were made aware of Noah's emotional and passionate demeanor, when he burst onto the collegiate basketball stage in grand fashion, when he led his Florida Gators teams to back to back national championships in '06 and '07. We are witnesses to his passion now in the NBA with the Chicago Bulls, as Noah celebrates after seemingly every dunk or blocked shot by screaming emphatically, while doing impersonation of Bruce Banner turning into the Incredible Hulk.
2)Allen Iverson(MEM) – If I had made this list 5 years ago, A.I. would have been miles ahead as #1 on this list since I have never seen a player in NBA history play with more passion,heart, and intensity than Iverson. I stopped counting the number of times that Iverson, who was usually the smallest on the court, was knocked to the floor and on a few occasions, into the first row of seats in Philadelphia, and got right back up and carried his Sixer squads to victory, even leading them all the way to the Finals in '01. But recently he has seemingly gone a little soft or lost some passion by essentially quitting by refusing to come off of the bench in Detroit, and even crying in a youtube video about giving money to charity.
1)Kevin Garnett(BOS) – Get ready Boston, since the "Big Ticket" is coming back strong for '09-'10. He has given everything he's got to Minnesota and Boston over his 14 NBA seasons. Playing with reckless abandon has taken him to great heights including MVP, NBA Champion, and even Defensive Player of the Year. Even after playing into his mid 30's, Garnett is still called "Da Kid" because of his youthfull abundance of energy and emotions, on and off the court. When he was reduced to sitting on the bench during the latter parts of last season and the playoffs because of injury, he could hardly contain himself, becoming Boston's biggest cheerleader by constantly waving a towel while on his feet during crucial moments. Sometimes his passion for the game is a little too much for other players since he once made teammate, "Big Baby" Davis cry after some constructive criticism.