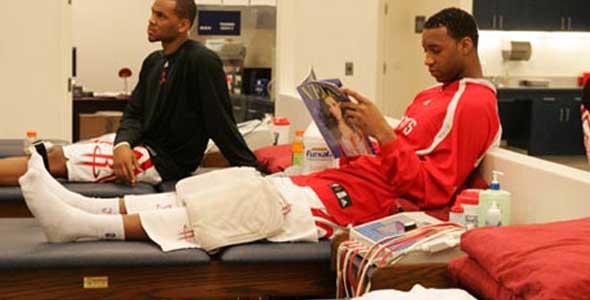 September 18, 2009 – Casey Armstrong
Casey graduated from the University of Southern California in 2005. He is currently a writer at BuyAthletes.com, Pac10Pros.com, TheHoopDoctors.com, and contributes to several travel sites. He is a huge fan of the NBA, College & International basketball, and Gary Payton.
With just over 40 days until the 2009-10 NBA Season tips off, we are going to look at five players with Something to Prove…Tracy McGrady, Elton Brand, Gilbert Arenas, Manu Ginobili, and Michael Redd.
You might look at that list and think, "Geez, that looks like an All-Star Team." Well, you'd be right. Each of them has been named to at least one All-NBA Team & All-Star Game. The problem is that last year they combined to play in 143 games, while starting in a measly 99 of them. That is an average of less than 29 games played and an even more pathetic 20 starts for each of them. What draws so much negative attention to those numbers is that they are all locked into contracts that will pay them a whopping $82.0M this year alone!
Before we dive into each player, I want to mention that we are leaving AI off this list because he has Tweeted about it enough.
1. Tracy McGrady
For somebody who led the NBA in scoring for two straight seasons and has made seven All-NBA Team & All-Star Game appearances, he sure gets ridiculed by the media a lot, but there are reasons. He will be the highest paid player in the NBA this year ($23.2M), despite the fact that his seven year slide in points per game plummeted to 15.6 points through 35 games last season. His lowest since the 1999-00 season. On top of that, he had his lowest rebounding average since his rookie year and shot less than 40% from the field for the first time in his entire NBA career!
To make matters even worse, the Houston Rockets got past the first round of the NBA Playoffs last year for the first time since he joined the team back in 2004 and he was watching the games on TV. They even forced the eventual NBA Champions, the L.A. Lakers, to seven games without him. A feat no other team could do.
T-Mac is going into a contract year and needs to prove that he is not just another ex-slasher now-jump shooter that wants way too much money. With the NBA Salary cap getting ready to take another big hit next season, it is a guarantee that there will be less money floating around. He also has back issues and that whole microscopic-knee-surgery-that-was-accidentally-leaked-to-the-media-before-team-officials-found-out thingy, but I don't want to get into all that drama.
2. Elton Brand
Brand played in only 29 games last year for the Philadelphia 76ers before suffering a season ending shoulder injury. It is one thing to have an injury as your excuse to an unproductive year, but in the games he did play he averaged career lows in points (13.8), blocks (1.6), and field goal percentage (44.7%). Bummer for the Sixers. Last year, they signed him to a five-year deal worth $82M.
I think this year he might try to prove he is not the second-coming of Jermaine O'Neal (an overpaid washed-up big man who, by the way, is making the third most money in the entire NBA this season…congrats to him & his agent) and that there is a reason why he ditched the L.A. Clippers & Baron Davis last minute to come to Philly.
3. Gilbert Arenas
Agent Zero, as he likes to call himself, finished in the Top-10 in points, steals, and minutes played per game for three straight years, but has suited up for the Washington Wizards in only 15 games over the past two seasons. On top of all that, he inked a new contract last year that will pay him $111M over the next six seasons. Yes, you read that correctly…$111,000,000. I would give you his yearly average, but my calculator doesn't have enough room for all that.
Last year also marked the first year the Washington Wizards missed the playoffs since the 2003-04 season. He is definitely going to want to prove why he was handed that contract (he did take a $16M cut off the original offer to free up Cap Space) and put his Wizards back into contention.
4. Manu Ginobili
After winning the NBA Sixth Man award, being named to the All-NBA Team, and posting career highs in points, rebounds, and assists, Manu saw all of those averages drop last year in an injury plagued season. He wasn't able to play in any of the San Antonia Spurs playoff games and they were eliminated in the first round for the first time since 2000.
He has always been a feisty player with uncanny moves and a knack for getting to the rim, but those usually result in injuries as Manu can attest to. Going into a contract year, Manu needs to show that his injury is a thing of the past and he is still a premier player in the NBA. With the addition of Richard Jefferson to an already loaded roster, he will also want to prove that the Spurs have what it takes to compete for the NBA Championship this year.
5. Michael Redd
Now here is somebody that always plays like he has something to prove. After falling to the 43rd pick in the 2000 Draft, Redd has proven himself so much that he won a Gold medal with the "Redeem Team" in 2008 and is getting paid $17M this year by the Milwaukee Bucks. Last year though, he tore his ACL & MCL causing him to miss 49 games. His Bucks went on to finish last in their division and haven't made the playoffs since sneaking in with the #8 seed in 2006.
I hope the best for him. He is a great locker room guy who has somehow been willing to call Milwaukee home since he entered the NBA.