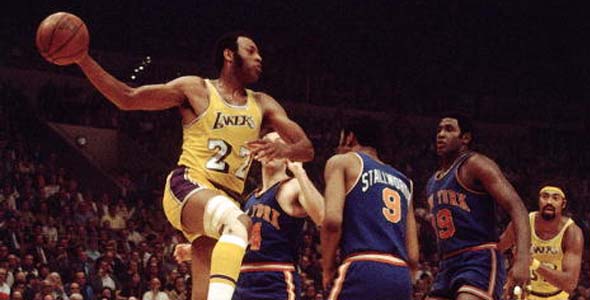 September 18, 2009 – R.S. De France
R.S. De France is a College and University instructor of English Composition. He has a B.A. in English and an M.A. in Rhetoric, Composition, and Writing. One of his life-long pursuits has been writing and covering anything related to sports, specifically the NBA. Recently, De France, his wife, and another colleague started an internationally read magazine at Shwibly.com.
Hall of Fame Los Angeles Laker Elgin Baylor, born September 16th in 1934, and he celebrated his 75th birthday this week. In his day, Baylor put up monster numbers, finishing with averages of 27.4 ppg and 13.5 rpg for his career. To honor Elgin Baylor, we're taking a look at successors of Baylor's style. An excellent athlete, Baylor was leaping, floating, and flying to the basket before it was fashionable to do so in the NBA. Uncharacteristic of many small forwards today, who can range from the Lakers' Lamar Odom at 6'10 to Paul Pierce at 6'6, Baylor was only 6'5. In addition, there are so many great combo players, who play guard and forward that distinguishing between shooting guards and small forwards seemed arbitrary, so this list includes both. Since Baylor, who has inherited his uncanny ability to convert athletic moves around the hoop?
10. "Big Game" James Worthy, small forward—Worthy was a playoff assassin and wingman for three of the Showtime Lakers championships. No one ran the break like those Laker teams, and Worthy was always there to convert on a fast break led by Magic Johnson. 17.6 ppg.
9. Paul "The Truth" Pierce, small forward—a smooth shooter and scorer, Pierce has led the Celtics for nearly a decade, in which time he has shown a game complete with every possible move around the basket. Although his legs looked tired in last years playoffs, Pierce will still throw it down. 22.9 ppg
8. Carmelo Anthony, small forward—Not only a great scorer, Anthony is perhaps even more effective playing in Olympic competition where he dominates. After winning the National title for Syracuse, Anthony took his scoring to the NBA where he has proven that he can score with the best of them. He has an uncanny ability to claim offensive rebounds, and numerous moves around the basket. 24.2 ppg and 6.1 rpg.
7. Kobe Bryant, "Black Mamba", shooting guard—a natural scorer, Kobe's game took years to develop and take its current form, as the best offensive weapon in the game. Kobe is now well-rounded, but when he came into the league, he savagely dunked on anyone who would stand in his way. When Dwight Howard first came into the league, Bryant made a nice poster on him with a ridiculous slam where Bryant almost appears to have jumped onto Howard's broad shoulders. Now, as his career continues into his 14th season, his dunks have become less spectacular, but once in a while he'll still thrown down a flashy dunk. 25.1 ppg, 5.3 rpg.
6. Vince Carter, "Half Man, Half Amazing", forward/guard—Carter is a dunk contest winner and owner of some of the best dunks from the past decade. Since coming into the league, Carter has owned the sky like few others before him. A couple playoffs back, as a New Jersey Net he pulled off an awesome double-clutch dunk on Alonzo Mourning's skull. 23.5 ppg and 5.5 rpg.
5. Clyde "The Glide" Drexler, shooting guard—Drexler could make almost as many different types of dunks as Michael Jordan, but always with a smooth, George Gervin-type flow that distinguished him. His ability to glide through the air on the way to the hoop certainly recalls images of Baylor driving into the lane. 20.4 ppg, 6.1 rpg, 5.6 apg, and 2 spg.
4. LeBron "The King" James, small forward—James came into the league scoring unbelievable numbers and shows no signs of slowing any time soon. His dunks are so massive, so embarrassing that former teammate Damon Jones actually tried to cover his face from the cameras in mid-air after being slammed on by James. With a combination a power and grace, James dunks with the best of them. 27.5 ppg, 7 rpg, and 6.7 apg.
3. Dominique Wilkins, "The Human Highlight Film", forward/guard—Before Josh Smith was throwing them down in Atlanta, everyone in Georgia, everyone in the league was captivated by the incredible athleticism that Wilkins displayed when he went up to throw one down. His legendary battles against Michael Jordan in the dunk contests have been well documented. Regarded as one of the best dunkers of all-time, Wilkins made nasty, in-your-face dunks a habit. 24.8 ppg and 6.7 rpg.
2. "Dr. J" or "The Doctor" Julius Erving, forward/guard—Coming into the league the same year the Baylor retired, Erving quickly picked up his mantle and became, in the eyes of some, the father of the modern dunk in the NBA. However, even Erving is too modest to accept this level of praise. At the very least, we can say that during his career Dr. J helped popularize the dunk, the dunk contest, and really advanced the art of dunking, especially the art of dunking on people named Michael Cooper. 24.2 ppg, 8.5 rpg and 2 spg. (ABA and NBA)
1. Michael Jordan "G.O.A.T.", shooting guard—Before he ever learned to win or dominate the post season as he did for so long, Jordan dominated the skies of the NBA, dunking on anyone from big to small. From wagging the finger back at Dikembe Mutombo after dunking on him, to his multiple slam dunk championships, Jordan was the undisputed king of the dunk during his career, however loudly Wilkins was knocking at the door. 30.1 ppg, 6.2 rpg, 5.3 apg, and 2.3 spg
What can you say? There's no comparison to Baylor. You've looked at the numbers; players can make athletic moves, soar to the hoop, and score on people. But, since Baylor, nobody with a similar game also rebounded at the rate Baylor did, which even further solidifies his uniqueness as an NBA talent.*
Just Missed the Top 10
Scottie Pippen
George Gervin
Adrian Dantley
The Next Generation
Kevin Durant
Rudy Gay
Honorable Mention
Richard Jefferson
Caron Butler
Lamar Odom
Jason Richardson
Corey Maggette
Danny Granger
Andre Iguodala
Latrell Sprewell
Cliff Robinson
Reggie Theus
David Thompson
Cedric Ceballos
The Awesome, but Injured
Tracy McGrady
Grant Hill
Bernard King
*Charles Barkley and Dennis Rodman are undersized power-forwards who were great at rebounding, but were not high flying, athletic scorers in the mold of Baylor. Due to his enormous height but small frame, Kevin Garnett plays almost any position, but usually plays small and power forward. Garnett has a game more similar to Hakeem Olajuwon or other great power forwards and centers of the game like Patrick Ewing. If there is another player who could slip onto this list due to his ability to play multiple positions, Garnett would be it.*