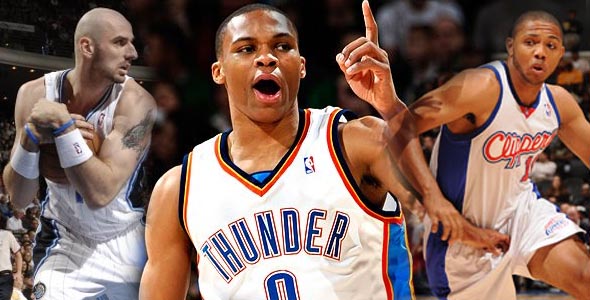 July 20, 2009 – Michael Pina
Michael Pina has a BA in English with a concentration in Journalism from the University of Delaware. He is currently living in his hometown of Boston.
Every season there are a handful of players who, either through a noticeable upgrade in off-season preparation or natural maturation that comes with another year on earth, make a substantial leap from a wide eyed rookie or average player with a significant hole in his game, to a headlining act. A soon-to-be paid like a franchise player worthy of having their name and face on the team's program and their every move adorned by thousands of 10 and 11 year olds wearing youth-sized officially licensed replica jerseys.
Last year it was Rajon Rondo. Arguably the most important piece on a Celtics team with at least three players who will one day have family members, friends, former coaches and teammates taking a weekend trip to Springfield in their honor. Rondo performed brightly on the court all year and brought his game to an even greater level in the postseason.
New Jersey's Devin Harris and Indiana's Danny Granger are two other players who showed significant improvement in nearly every aspect of their game. With Harris's blinding quickness and Granger's natural scoring ability, the two made the first of what could be many all-star game appearances last season.
Here is a figurative starting five of players who you may have heard of before, but could unexpectedly be near household names as early as the 2009-10 season. I guess you could call them the NBA's First Team All-'Pleasant Surprise':
Point Guard- Russell Westbrook
Coming out of UCLA, Westbrook was a show stopping athletic marvel who didn't look like an NBA ready point guard, but created highlight reel's galore in a backcourt tandem with the more traditional Darren Collison. At the age of 20 in his rookie season, Westbrook overtook the role of starting point guard on one of the most promising teams in the entire league. While he was incredibly impressive averaging 15 points, five assists and five rebounds per game, Westbrook was clearly a work in progress and a player whom the Thunder decided to let take his own training wheels off. He played in all 82 games (starting 65) and led the league in turnovers. With Kevin Durant, Jeff Green and James Harden all on the roster, Westbrook will be helming a young team with scorers aplenty.
Shooting Guard- Eric Gordon
Playing for the Clippers, Gordon is seemingly stuck in a metaphorical black pit, but this natural scorer with a slight resemblance to new Detroit Piston Ben Gordon could grow into a very effective shooting guard in the years to come. He's able to create his own shot with relative ease, averaging 16 points a game as a rookie, and with Blake Griffin instead of Zach Randolph on the block, the floor will surely open up for a shooter like Gordon.
Small Forward- Anthony Randolph
He's technically not a true small forward, but seeing that he gets the playing time he deserves, Anthony Randolph is the surest player on this list to take a major leap in the right direction next season. With freakish athletic ability and ball handling talent you like to see in a guard as opposed to someone an inch or two below seven feet tall, the left handed Randolph plays like a young Lamar Odom and has no real ceiling. Playing with more court time next year under Don Nelson's up and down style should only benefit Randolph and eventually push him into the league's elite.
Power Forward- Marreese Speights
The least known player on this list, outside of basketball fans in Philadelphia, Speights was a pleasant surprise his rookie year shooting over 50 percent from the field in limited minutes. The former Gator proved he was able to run the floor and perform in a run and gun offensive system. With fellow front-court mate Reggie Evans gone and new Head Coach Eddie Jordan sure to reinstitute the same system Philadelphia has run for the past few seasons, Speights should only get better with the more minutes he sees.
Center- Marcin Gortat
There are no centers that jump out and look like they could surprise people next season with the one exception being Marcin Gortat who is a likely trade candidate out of Orlando and Dwight Howard's shadow. He was efficient as a back up player but due to the sample size of playing time that he saw throughout last year, that could easily translate to a major drop off in performance once he becomes the man for somebody.