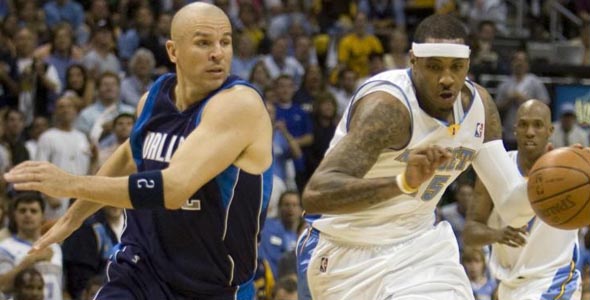 July 13, 2009 – Ryan Desmarais
Ryan Desmarais is a senior at the University of New Hampshire at Manchester, where he will receive his BA in English in December 2009. He currently resides in Manchester, NH.
Since being drafted by the Dallas Mavericks in 1994, Jason Kidd has arguably been the best point guard in the NBA and one of the greatest to ever step foot on a basketball court. One of the best leaders and decision-makers the league has ever seen, Kidd has turned his teams into winners wherever he has gone. In his first two and a half years as a pro, he helped bring the Mavericks out of the toilet of the NBA and made the struggling franchise relevant again. Kidd then spent five seasons in Phoenix, where he led the Suns to the playoffs every year. His biggest, and probably most well-known, accomplishment was leading the once-pathetic New Jersey Nets to the NBA Finals in back-to back seasons. He's made a career out of doing everything on the floor, collecting over 100 triple-doubles on his way to becoming a first-ballot Hall of Famer.
After saying all that, the Mavericks are out of their minds giving Jason Kidd a 3-year $25 million deal.
Kidd has been the master of running the fast break since being drafted. When he brought his trademark offense to the Eastern Conference back in 2001, teams had no answer for it and the Nets ran all the way to the Finals before being stopped in their tracks by Shaq, Kobe and Phil. Mavs head coach Rick Carlisle has said that he wants to implement more of a running, fast-break style to the team next season. This sounds all fine and wonderful until the realization hits that Kidd will be 37 next March and the legs aren't what they used to be. Not only will this hinder the Mavericks' offense, it will also take away from Kidd's ability to play man-to-man defense. In a conference that showcases three of the best point guards in the game in Chris Paul, Deron Williams, and Tony Parker (none of whom are older than 27 years old), Kidd can't afford to have an off-night on the defensive side. Just keeping up with these guys is hard enough for 37-year-old legs, but throw other West point guards into the mix like Chauncey Billups and Steve Nash and the threat of Kidd breaking down as the season progresses could become a concern for Dallas.
While Kidd continues to be a great facilitator to his teammates, his own ability to put the ball in the hoop has declined. Never known as a great shooter, Kidd hasn't shot higher than 41% from the field in any season this decade. This has led to his scoring average dropping every season since '02-'03, when he averaged a career-high 18.7 points a game. Kidd has always been able to make up for his lack of shooting ability with a good dribble penetration game. This allowed him to get in the paint and either get some easy looks or dish it out to teammates. Recently, however, Kidd's been playing more on the outside and either looking to distribute from there or take the open 3-pointer when teams play off of him. On a team that wants to play more of an up-tempo style, the combination of Kidd's poor shooting and inability to get to the hoop when he wants could cause some problems on the offensive side.
Kidd obviously has a wealth of point guard knowledge to pass on to others. Backup point guard J.J. Barea saw a huge increase of playing time and his productivity skyrocketed, and Kidd probably had a lot to do with that. But paying a guy over $8 million a year to be a point guard coach is a little on the pricey side. That's why teams hire head coaches and assistant coaches. They coach. Players play. And NBA players, especially point guards, need to play at a high level consistently. Can Kidd do that next year? Sure. Can he do that during the entire length of the contract? Probably not.
Jason Kidd can still play in this league and help the Dallas Mavericks win games right now. The key words, however, are "right now." He continues to be a tremendous floor general and his basketball IQ is through the roof, but he still needs the physical skills and abilities to get the job done and Kidd might not be able to keep up with the new influx of point guards, especially the 12 point guards drafted in the first round this year. Dallas could've been fine letting Kidd go and using Barea and Jason Terry as their point guards. With or without Kidd, the Mavs aren't a serious contender for an NBA championship. But the signing, combined with a shrinking salary cap the next few seasons, makes it difficult for Dallas to make a push for one of the superstar free agents in the 2010 class and could hold the Dallas Mavericks back for the next few years.