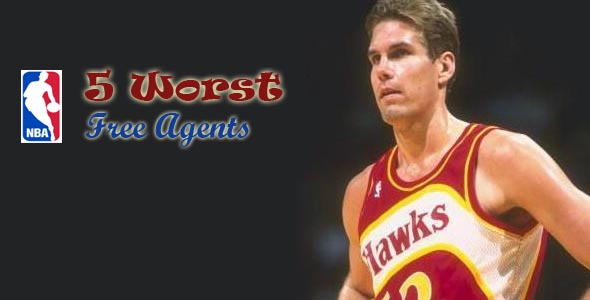 July 21, 2009 – Ryan Desmarais
Ryan Desmarais is a senior at the University of New Hampshire at Manchester, where he will receive his BA in English in December 2009. Ryan is also a writer at The Bleacher Report. He currently resides in Manchester, NH.
As the NBA off-season continues to change the landscape of the league, team executives need to be warned.
Choose your investments wisely.
Free agency has turned the NBA into a revolving door and has created plenty of parity over the years. Teams that were perennial bottom dwellers have turned themselves into instant contenders from signing a star player or two during the free agency period. The bidding wars over players that are perceived as "can't-miss" start to become both as competitive and entertaining as the games played in the arenas.
But the signings don't always turn out as nice as teams would hope.
Teams will start throwing exorbitant amounts of cash at guys because they're desperate to fill a need, the market's thin, or all the big-named players are gone. Other teams overpay players because they had impressive ends to their contract seasons or because of the dreaded P-word: potential.
I do not count a free agent signing as bad because a solid player worthy of the money got injured in the middle of a contract (see Allan Houston). There's not much teams can do about that. The list contains players that didn't do much before getting the nice contract and did even less after getting it. With that cleared up, here are the five worst free agent signings ever.
5. Austin Croshere
Croshere was drafted in 1997 by Indiana with the 12th pick and had two unproductive seasons before showing some potential in the '99-'00 season, averaging 10.3 points and 6.4 boards a game. But it wasn't until the 2000 Finals against the Lakers that he had his "coming-out party." Croshere came off the bench during the series and averaged over 15 points and 6 rebounds a game as the Pacers fell to the Lakers in six games. Indiana felt that Croshere's efforts garnered giving him a 7-year $51 million deal. He lived up to the contract by averaging double digits in points only once, the season after the contract when he averaged 10.1 point a game. Croshere was dealt to Dallas during the final year of his contract and has bounced around the league ever since, playing for three teams in three seasons.
4. Travis Knight
Rick Pitino did a lot of stupid things when he was the President of the Boston Celtics during the late '90's, but this one takes the cake. Knight played the '96-'97 season with the Lakers and averaged 4.8 points and 4.5 rebounds in just over 16 minutes a game. Apparently, these are numbers that a team just can't live without and Pitino needed to bring the seven-footer to Boston by any means possible. Knight signed a 7-year deal worth $22 million in 1997 and followed it up by averaging 6.5 points and 4.9 rebounds. He spent one season in Boston and was sent back to L.A. before finishing his illustrious career in New York. Knight ended his career averaging 3.4 points and 1.9 boards, not quite living up to Pitino's expectations.
3. Jim McIlvaine
Here's a shocker. The Seattle Supersonics made a dumb financial decision. The team was coming off an NBA Finals appearance in which they were taken out by the record-setting '96 Chicago Bulls. In serious need of a big man, the team decided to go after McIlvaine, a second-year player who averaged 2.3 points and 2.9 rebounds the season before as Gheorghe Muresan's backup. No problem there, right? Not until you see the 7-year $33.6 million contract that Seattle offered him. This deal upset Shawn Kemp, Seattle's star player who had been asking the team for a contract extension. Kemp was traded to Cleveland after the '96-'97 season, a year that saw McIlvaine put up career number of 3.8 points and 4 rebounds. McIlvaine spent one more season in Seattle before finishing his career in New Jersey, where he never averaged over 2.4 points a game in a season.
2. Jerome James
Wherever there's a bad contract, the Knicks are usually somewhere in the picture. And whenever Isiah was involved, things just got downright ugly. But this might be Isiah's worst of the worst. James played 16 games for Sacramento during '98-'99 season before disappearing from the NBA radar for two years. He reappeared in 2001 with Seattle and never averaged more than 5.4 points a game over four seasons in the Pacific Northwest. However, in true contract year form, James showed up for the Sonics during the playoffs and averaged 12.5 points and 6.8 boards in 11 games. Isiah and the Knicks signed James to a 5-year $30 million during that off-season and after getting paid, James returned to form. He never averaged over 3 points a game during his time in New York and has played a grand total of four games in the last two seasons. On the bright side, James ended the '07-'08 season with a perfect shooting percentage, going 1-1 from the field and 2-2 from the foul line. Looks like money well spent.
1. Jon Koncak
You know how you can tell that some players are stiffs just because of their name? Koncak might be the poster boy for that. A decent role player off the bench, Koncak had been hovering around 5 points and 6 rebounds a game from 1986 to 1989. But, once again, in true contract year form, Koncak showed up for the playoff run. In five games, he averaged almost 13 points and 10 boards. This apparently was enough of a sample for Atlanta to give Koncak a 6-year deal worth $13 million. This might not seem like a huge amount of money, but this deal paid him more than Michael Jordan, Magic Johnson, and Larry Bird. "Jon Contract" didn't quite live up to his end of the bargain, never averaging more than 4 points and 5 rebounds a game for the rest of his career while those other three guys had pretty decent careers, I guess you could say. The Hawks had to eat the money and Koncak became the catalyst for terrible free agent contracts.