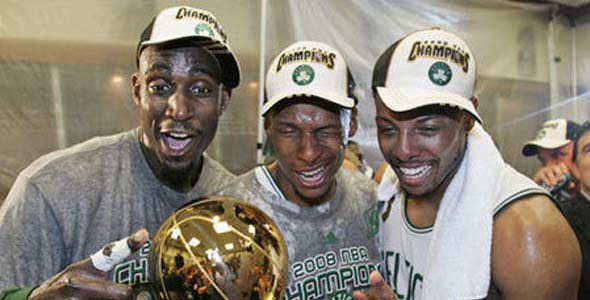 May 13, 2009 – Michael Pina
Michael Pina is a senior at the University of Delaware about to graduate with a BA in English concentrating in Journalism. Once he graduates in May, He'll be living in his hometown of Boston.
When the Boston Celtics acquired the rapidly aging Ray Allen and Kevin Garnett to go with Paul Pierce, the most successful franchise in basketball history became significant over night for the first time in 20 years. The excitement around the team was abundant and as we all know, the TD Banknorth Garden magically transformed into The Garden of old once June rolled around and the Celtics physically decimated Kobe's Lakers to capture their 17th banner.
After a historically blazing beginning this year, it looked all but certain that the defending champions were even better than before. A team on a mission? No, this was a team absolutely possessed to repeat. Then Christmas happened and they came back to earth. There were losses to the Knicks, the Warriors and the Bobcats, and on February 19 The Big Ticket went down with a knee injury, causing questions about the seemingly perfect trade from two years ago to arise. The Celtics, who gave up five players, two draft picks and cash considerations for the 31 year old future hall-of-famer, were forced to answer the question, was endangering the teams future worth ruining the memories that went along with capturing that ever elusive ring? Danny Ainge knew when he made the deal that they only had a three year window to win the title.
It's obviously a very cynical view on things and not too reasonable. It would be like contently dining at Italy's Osteria Francescana and ten minutes later wanting to know what's for breakfast. Critical fans were starting to wonder whether or not Boston would have been better off with Al Jefferson (possibly the best young low post player in the game) as a Celtic pillar for the next decade.
After watching their historic first round series against Chicago and now the heart that's being displayed against Orlando, it can honestly be said that their future is in safe hands after all.
When Kevin Garnett came to Boston his defensive influence was clearly his greatest asset. The way Paul Pierce and Ray Allen all of a sudden began to work as hard defensively as they do when looking for shots was a sacrificial testament to the type of player, leader and person Garnett truly is. What he also did was teach the young players like Rajon Rondo (23), Kendrick Perkins (24) and Glen "Big Baby" Davis (23) what it takes to be a champion. How to play through injuries, how to work on their games and improve themselves in the off-season.
There was much talk about what Lebron James learned from Kobe Bryant when the two were in Beijing and how he discovered preparatory techniques from someone who already claimed three rings of his own.
When you look at the Celtics youth movement it all starts with Rondo. In the playoffs, he's elevated his game to a level not too many point guards in NBA history have seen. Through the first 11 games, he's averaging over 10.5 assists, 18.3 points and a little over nine boards a game; historic numbers. Rondo has more rebounds this postseason than everyone in the league except Perkins and the games best boardsman, Dwight Howard (that includes Yao Ming and Pau Gasol for those keeping tabs). That's like Ichiro Suzuki leading the American League in homeruns this year.
Lets not forget that he's a point guard, a position designed to get other teammates active and involved. Rondo has 116 assists which is the most in the playoffs; Chauncey Billups has the second highest with 54.
Looking at Kendrick Perkins, he's been one of the most consistent two-way players in the post-season when he's not in foul trouble. The big man has played remarkable defense against Dwight Howard and with a depleted Celtics front line, has single handedly grabbed what look like impossible offensive rebounds several times a contest. He's rock solid.
As for Big Baby Davis, nobody has been as big a surprise. Stepping in for Garnett, the Ticket Stub, as he sometimes refers to himself, has been more than serviceable with his consistent mid range jumper and amazingly nimble moves around the basket. His game winning 21-footer at the end of game 4 might have been shocking to those who haven't been paying attention, but to astute observers, Glen Davis is quickly becoming a rising star in this league. Davis will be a restricted free agent at the end of this season and Boston would be foolish not to sign the big man to a long-term deal.
If all goes according to plan, the future of the NBA should be found in Portland, wherever Lebron James chooses to suit up and possibly Oklahoma City; but don't count out Boston. A team that might not be the best in the league a few years down the road, but with their playoff experience and championship grit, they won't be overlooked.