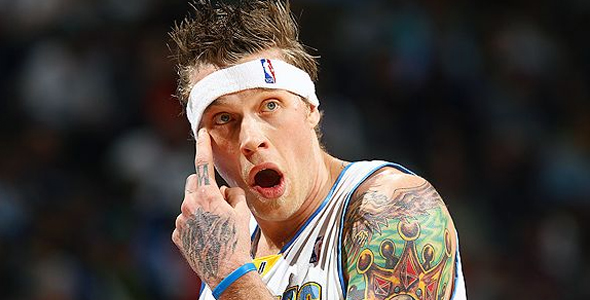 April 30, 2009 – Dr. Anklesnap
It's indisputable that the Denver Nuggets are currently the biggest threat to the LA Lakers in the Western Conference. Everywhere I look on the blogosphere and in mainstream media reports, analysts are attributing the Nuggets overwhelming success in the post-season thus far to Chauncey's leadership, 'Melo and JR's scoring, and Kenyon Martin and Nene's domination in the paint.
I would never question those factors as some of the keys to the Nuggets domination of the Hornets in Round 1. But there was one other important player that should be getting mentioned in the same breath. Chris 'The Birdman' Andersen. He has been all over the court. He's a madman. You either love him or hate him, but you can't deny he's playing some great basketball. I wish there was more stats tracked by the NBA for retrieval of looseballs and securing possession for your team on those multiple plays a game where the possession could go one way or the other. I have a feeling Andersen would be a league leader in that area so far in the post-season. Add to that the blocked shots, rebounds on both ends, offensive put back dunks, steals.
It's almost as if his time off away from the game due to his indefinite suspension for breaking the NBA's substance abuse policy a couple of years ago, has worked to his advantage. That time away from the game may have renewed his focus, given him more time to train, and put his head and heart in the right place for playing ball. Now don't get me wrong, i'm not suggesting players take a couple of years off basketball, or start smoking drugs to get themselves banned. Just to say it's a pleasant surprise to see the Birdman playing so great for Denver.
Most people have a tough time seeing past Andersen's tattoo covered upperbody or his crazy mohawk hairdo's, for the saavy veteran that he has become. If you watch Andersen closely on the court you will get an idea of how much he uses his head when he's playing the game. He's always in the right spot, he has that innate ability to always find the open space, and he's got a nose for the ball on the glass. He does all those intangible things for the Nuggets that make the difference between a team being a winner or a loser in tight games. All of which have made him a favorite of Nuggets Coach George Karl, and a fan favorite to boot.
Not a bad two year transformation to go from being a player banned for substance abuse, to being a key player on a team with championship hopes, all the while being a role model to the young ballers of Denver. Let's just hope they mimic his playing style and not his hairstyle…