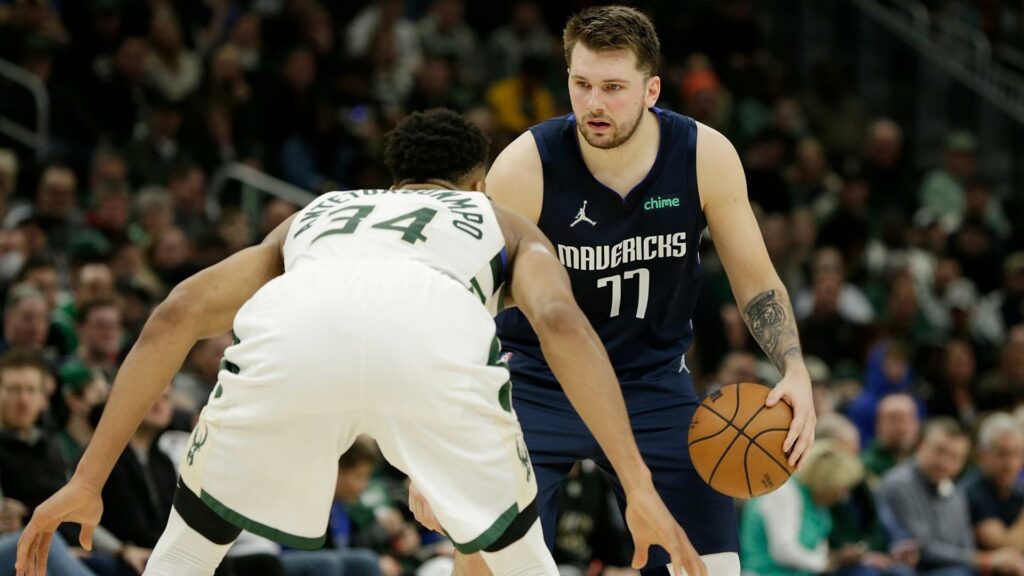 In what is swiftly becoming the greatest statistical season in NBA history, numerous players will have historically outstanding seasons this year and won't even receive a mention for the MVP. This is because this season is so filled with all-time elite talent.
There are currently up to 4 players posting similar odds for the 2023 NBA MVP winner, something that we've rarely seen in history. In terms of American odds, Doncic, Tatum, Giannis, and Jokic are posting between +260 to +400. American odds are probably the easiest odds format to understand, as to show the amount one must wager to win $100 or the amount one would earn for every $100 staked, odds are displayed using plus (+) and minus (-) symbols. A +300 bet means you risk only $100, but you win $300.
This season will see most all-time records get beaten
Currently, six players in the league are scoring more than 31 points per contest. It has never happened before that there were so many guys who averaged at least 31 per game. In fact, there are as many players who average at least 31 points per game this season as there were in the previous 15 seasons put together.
This has never been seen in the NBA before, and the numbers keep getting crazier.
Jason Tatum, who has helped the Celtics to one of their finest starts in team history, is one of those players fighting for the MVP this year. The Celtics now have a net rating of 7.7, which is on pace to be the best net rating the team has ever achieved.
Only four players in NBA history have ever averaged more than 31 points, seven rebounds, and five assists per game: Michael Jordan, Wilt Chamberlain, Kareem Abdul-Jabbar, and Kevin Durant. And Jason Tatum is the only one doing it this season, but still isn't close to the first position in the MVP ladder because the two players ahead of him are on the verge of utterly redefining what an all-time great season in the NBA looks like.
Only three players in NBA history have earned both the league MVP and defensive player of the year in the same campaign: Michael Jordan in 1998, Hakeem Olajuwon in 1994, and Giannis Antetokounmpo in 2020. This may be the rarest and most astounding feat a player can accomplish, and Giannis may pull it off once more this season. If his record-breaking 2020 MVP performance wasn't already obscenely dominant, he's somehow reproducing those numbers again this year. Giannis is currently playing like a cross between Shaquille O'Neal and Tim Duncan, and it's just gotten so commonplace at this point that no one is even bringing it up.
And for some reason, one player's season is even better than Giannis'. Jokic topped the league in Win shares (15.2), Box plus-minus (13.2), and Value above replacement (9.8), and he set a new record for the highest single-season Player Efficiency Rating (32.8) in league history last season on his way to winning a second MVP award. The previous mark was held for 50 years by Will Chamberlain, who had a PER of 32.08 while averaging a modest 50 points and 26 rebounds per game.
Luka Doncic is on track to surpass Jokic's record this year. Currently, Luka is scoring 34 points a game while pulling down 9 rebounds and dishing out 8 assists. No player in the history of the league has ever averaged these figures, and even more impressively, Luka is on pace to set the NBA record for player efficiency while averaging a close to triple-double of 34 points, which, ladies and gentlemen, may just be what it takes to win an MVP this year.
What about the rest of the players who are having awesome seasons?
Shai Gilgeous-Alexander is averaging 31 points, 6 assists and 5 rebounds a game on 53 shooting while having one of the highest PER (28.5) in NBA history. He's seventh on the MVP leaderboard.
Kevin Durant is averaging 37 and 5 a game on career-high efficiency. And Durant isn't even on the MVP ladder right now. One of the greatest players to ever lace up is in the midst of one of the most productive and efficient seasons of his entire career and the man can't even top the MVP leaderboard.
Devin Booker is leading a title-contending team to one of the best records in the NBA and he's averaging career highs across the board in production and efficiency putting up 28, 6, and 5 a game.
Joel Embiid just put up one of the greatest regular-season performances in NBA history. His 59-points against the Jazz was the seventh-best regular season game in league history. Averaging 32, 10, and 5 a game and he isn't even on the top 5 MVP ladder leaderboard.
The MVP race this season is deeper than it's ever been what was once considered a historically great season may not even earn a player any MVP votes at all this season.
The standard for what it takes to be the most valuable player in the NBA has reached an all-time high and it's going to take an all-time season to win the coveted award.