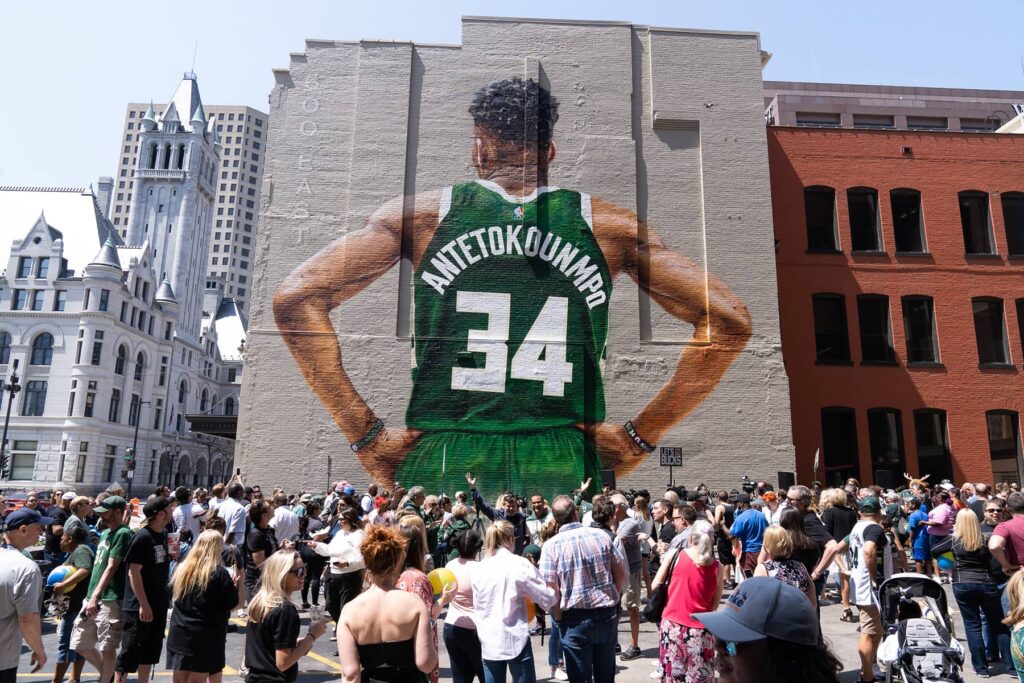 The Greek-Nigerian National Basketball Association player Giannis Antetokounmpo is known for his innate love for Milwaukee Bucks. He has been playing for the Bucks since 2013 and, to date, has no plans to leave the team.
Antetokounmpo is an incredible basketball player who loves Milwaukeeans and believes it to be his second home. His fans are sure he will always play as a Milwaukeean and excel in sports.
Glimpse of Giannis Antetokounmpo Career
Giannis Sina Ugo Antetokounmpo is a 27 years young basketball player from Athens, Greece. He earned the nickname "Greek Freak" due to his country of origin and exceptional ball-handling skills and speed.
He is one of the most accomplished and popular basketball players in Milwaukee Bucks. But Antetokounmpo has not always been part of Milwaukee. He got drafted by someone else!
• Filathlitikos
Giannis Antetokounmpo 2011 started playing with the senior men's team of Filathlitikos. It was a semi-pro Greek Basketball League. In 2012, Antetokounmpo signed four years deal with the Spanish club.
He participated in Greek League All-Star Game event as well. What's interesting is that Giannis Antetokounmpo was not selected for the All-Star game but was allowed to play to entertain the fans.
• Milwaukee Bucks
In 2013, Giannis Antetokounmpo became eligible to become a part of the NBA world. Lucky for him, he got drafted in the first-round pick and was selected 15th overall by Milwaukee Bucks. At 18, Antetokounmpo made an NBA debut, making him the youngest NBA player ever.
He signed a four-year contract with the Bucks in 2016 worth $100 million. He kept on breaking records over records and received the NBA Most Improved Player Award. He became the first player of the Milwaukee Bucks ever to receive the Improved Player award in their history.
Giannis Antetokounmpo received back-to-back MVP awards in 2019 and 2020. He joined the legendary Hakeem Olajuwon and Michael Jordan in winning the Most Valuable Player and Defensive Player of the Year awards.
It was speculated that Giannis Antetokounmpo might leave Milwaukee Bucks and go for another National Basketball Association team. But in 2020, he finalized a deal with the Bucks and signed a five-year contract for $228 million. The deal was the largest in the history of the National Basketball Association (NBA).
In 2021, he became the recipient of the NBA Champions award, NBA Finals MVP, and NBA All-Star Game MVP. In 2022 Antetokounmpo was named Defensive Player of the Year, Most Valuable Player, and a part of the All-NBA First Team.
Giannis Antetokounmpo and the Love for Milwaukeeans
At the age of 18 years, he first saw a kid wearing his Milwaukeean jersey. Before that, he never got the chance to witness such a thing. Such an event left an everlasting impression on the heart of Greek Freak.
When the world believed he would leave Milwaukee Bucks, Antetokounmpo proved everyone wrong. During an interview with the GQ Magazine, he once said that the next challenge might not be here. It sparked a debate among his fans about whether he leave or stay.
But we all know where Giannis Antetokounmpo's heart lies. He signed the most significant and record-breaking deal worth $228.2 million and stayed on the team. As per him, he cannot stand his fans burning his Milwaukee Bucks jersey. He signed the supermax contract extension of five years to ensure he doesn't witness the disappointment in the eyes of his fans.
It proves the love Antetokounmpo has for the Milwaukeeans. He knew that all the significant players left one franchise and moved towards another. But he never wanted such a thing for himself. He desires happiness for himself and his family. And his ultimate cheerfulness and love are in Milwaukee Bucks only.
For many years, he has spoken about the loyalty he feels to Milwaukee Bucks and the dedication towards all the Milwaukeeans. He loves the city that gave him the space to live and welcomed him with adoration and affection. Giannis Antetokounmpo cannot think of leaving the city or the team he played with since he was a teenager.
Once while recalling his memorable time at Milwaukee, he reminisced walking in Cousins Center Gym and Bradley Center. Since then, he knows Milwaukee and no one else. He never wanted to leave Milwaukeeans and the Milwaukee Bucks, but the endless questions of whether he will go or not irritated him a lot. And for that reason, he disappeared from the mainstream media for a while.
Interesting Facts of Giannis Antetokounmpo Proving His Love for Milwaukeeans
The fans of Giannis Antetokounmpo call Milwaukee the land of freaks (in love with the Greek Freak nickname).
During an interview in 2019, after winning a game, Giannis held a baby and talked to the reporter quickly. During the interaction time, he kept having the baby of Scott Faust with affection in his eyes. The Milwaukee Bucks' official Twitter handled shared the moment and cheered their player. It is reported that Giannis loves to play with Baby Cadence and is often seen playing with her.
Did you know Giannis Antetokounmpo met his Greek fans in a game in New York? After winning the game, he thanked his Greek fans in his native language and signed jerseys for them. Even though he was tired but preferred staying with the fans, he was also presented with souvlaki, a famous Greek food by the delegation. He got emotional while enjoying the taste of home in New York.
The Bottom Line
Either Milwaukeeans or his Greek fans, Giannis Antetokounmpo, is famous for his down-to-Earth nature. He loves to spread positivity and appreciation for all, no matter what. He has been with Milwaukee Bucks for another five years and plans to stay with them.
The love affair of Giannis Antetokounmpo with Milwaukeeans is incredible and fascinating. He is attached to his fans and appreciates their love. You can also convey your love to the Milwaukeean star by purchasing the 2013-14 Select Basketball Card. It is his rookie card, perfect for investors!