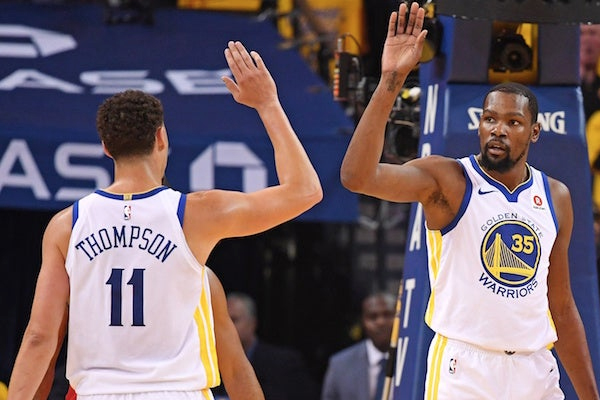 Head coach Steve Kerr has announced that Kevin Durant will miss Game 4 of the NBA Finals against the Raptors as he continues to heal from his calf injury.
"The training staff says he's not ready to play yet – that's all," Kerr said.
This is the ninth straight game that KD has missed since his injury in Game 5 of the Western Conference semifinals, but not it's not all bad news coming out of Golden State. Klay thompson is expected to return this evening after missing the last game due to a hamstring injury.
As for Durant, Steve Kerr is still optomistic that he will return before the end of this series.
"The hope would be that he could still make it back for the end of this series,"Steve Kerr said.
With the Warriors currently trailing the NBA Finals 2-1 combined with the fact that they're already missing Kevon Looney for the remainder of the series due to a chest contusion as well as Kevin Durant, the return of Thompson will be a welcome addition to a team that will be desperate for a win in Game 4