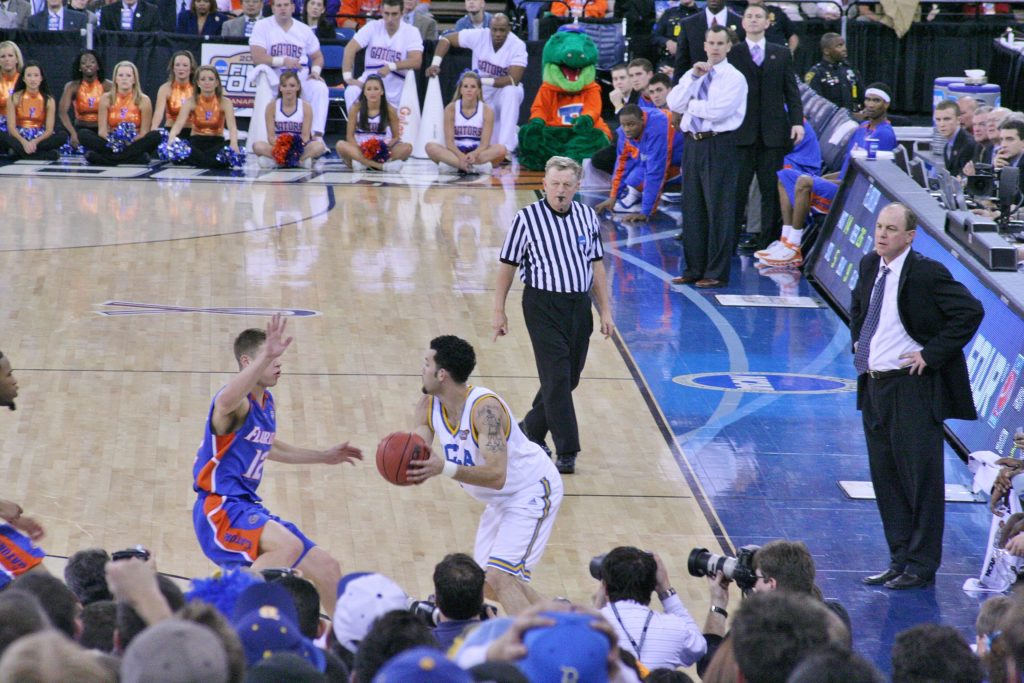 March Madness is a unique cultural phenomenon.
Sports-loving Americans are famous for forging strong emotional attachments to players, teams, and events–usually within the professional ranks of millionaire athletes and billionaire owners. Consider the annual pomp and circumstance surrounding the Super Bowl as exhibit A.
The NCAA Division I Men's Basketball Tournament, aka March Madness, is a little different. For three weeks each spring, the nation's premier college teams battle through seven rounds in an effort to be the last squad standing in the single-elimination tournament
While the tournament is huge business for the participating schools, broadcasters, and the NCAA–the college athletics regulation body earns about $800 million each year from March Madness–the stars driving the show receive zero financial compensation.
But they do get a tuned-in, fascinated audience brimming with adoration. And we, the Madness viewing public, get some rather peculiar benefits in return.
A Dose of Inspiration
March Madness represents the highest level of basketball played with amateur purity. Very few of the student-athletes competing in the NCAA tournament are household names. They are scrappy kids elevated to the national stage with the chance of becoming heroes, albeit for a brief time.
The tournament reflects a deep-running thread in American culture–the idea that the every man or woman can be plucked from obscurity and handed the keys to something greater.
Watching others achieve some kind of greatness inspires us in our own lives. It makes us consider our potential, reminds of us of our hopes and dreams, and tickles our sense of pride–it's good for the feels, like a classic singalong song. Maybe we're even more touched if the greatness unfolding before our eyes is accomplished by relative unknowns.
A Shot for the Underdogs
Similarly, we're drawn to the classic story of the underdog unexpectedly defeating the heavy favorite. With a 67-game slate, there are at least a few David-overcoming-Goliath outcomes in March Madness every year where unlikely squads knock-out highly seeded ones.
These Cinderella teams may bust brackets, but their stories are pure gold. For example, Duke pulls into the tournament leading many 2019 March Madness predictions lists. For every fan who wants to see the Blue Devils enter their 13th Final Four under head coach Mike Krzyzewski, another would love to see the perennial powerhouse upset in the first round by a lower seed.
Improbability is a big part of what makes these types of stunning upsets so appealing. Only once in March Madness history has a region's 16th seed defeated the top seed. It happened last year when UBMC shocked Virginia 74-54 in the first round.
Bracketology Promotes Social Belonging
The NCAA tournament is also an opportunity for people to commune over a shared experience, a stance bolstered by the ubiquity of office pools. Millions of Americans each year try their hands at bracketology, submitting their best-guessed outcomes of the tournament's seeds, regions, and teams into competitions among work colleagues and friends.
More than 3 million U.S. workers will spend one to three hours watching March Madness games while on the clock, according to Psychology Today. An estimated two-thirds of all employees will follow the tournament in one way or another during working hours.
But the vast majority of office pool entrants aren't college basketball experts. So why get invested in a contest where you're likely out of your depth?
The answer appears to be the camaraderie and shared bonds surrounding college basketball's biggest moment.
Experts indicate that employees who participate in office pools or discuss the NCAA tournament with co-workers often feel increased morale and a sense of teamwork.
Dr. Daniel Wann, a psychology professor at Murray State University, acknowledges the positive aspects of March Madness, "Being a fan gives us something to talk about, to share and bond with others. And for the vast majority of people, it's psychologically healthier when you can increase social connections with others."
Wann is an authority in the psychology of sports fandom with 200 stories on the subject under his belt. He finds a consistent trend in his research–people who self-identify as sports fans have higher self-esteem and lower depression rates than non-fans.
March Madness showcases the best in sports. And you don't need to be a devoted college hoops fan to discover magic in the madness. You may find just casually following the NCAA tournament inspires you and provides and sense of community.