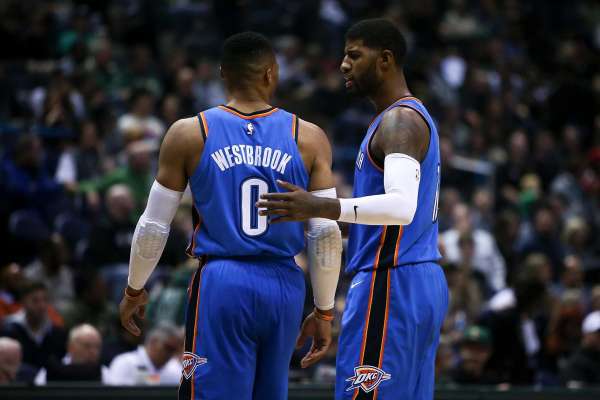 Paul George admits that some players have a hard time coexisting with LeBron James, which clearly explains why he didn't grant the Los Angeles Lakers a meeting in free agency before re-upping with the Oklahoma City Thunder.
Well, not really.
Speaking with ESPN.com's Royce Young, George made these comments as part of a defense for his decision to continue playing with Russell Westbrook, who many believed helped drive Kevin Durant out of town:
George doesn't run away from the idea that there's a learning curve to playing with Westbrook, or that some players might not want to do so. But it's also not something exclusive to Westbrook, he says.

"You could say that about a lot of guys," George says. "LeBron is the best player in our league, but some people have a hard time playing with him. One thing you can't say about Russ is that he's not ready or he's not prepared. That's him every night."
This is a perfectly reasonable statement. Westbrook isn't for everyone. That much is clear. The man has turned the merit of triple-doubles into a political debate for crying out loud. But not every player is for everyone. That includes LeBron. He grated on Kyrie Irving. There are reports now that free agents aren't bent on joining the Lakers in part because of him. Personalities and play styles clash. It happens.
Logistically speaking, George and Westbrook are a better match than, say, Durant and Westbrook. George is a superstar but has spent the vast majority of his career as a secondary ball-handler, even when he's been the No. 1 option. He probably doesn't have as much of an issue watching Westbrook try to take over games, because he's not totally out of his element. That doesn't make them a championship-level pairing, but it does make them a fit—one George needn't have to justify over and over.