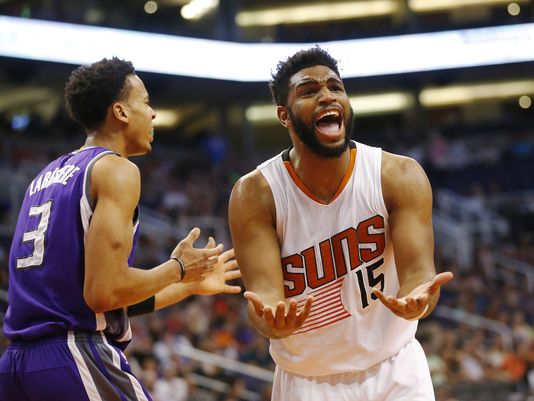 At 6'6″ and 260 pounds, Alan Williams is not your typical NBA player, especially in 2018.
He was able to work his way from undrafted rookie and camp invite to a valued role as a roational big man for the Suns in his second season though and took full advantage with limited opportunity, averaging 7.4 points and 6.2 rebounds (17.4 points and 15.8 rebounds per 36 minutes) in only 15 minutes per game during the 2016-17 season for the Suns.
That earned him a three-year, $15 million contract and was looked to be a role moving forward until he tore his ACL during the 2017 off-season and missed his entire 2017-18 campaign.
Fast forward to the Suns needing to clear space to sign Trevor Ariza in free agency this summer and the hometown kid became a cap casualty of the Suns.
He has found a new home for the 2018-19 season with the Brooklyn Nets.
Former Sun Alan Williams has agreed to a two-way deal with the Nets, league source tells ESPN.

— Adrian Wojnarowski (@wojespn) September 14, 2018
He will likely start the season in the G-League, but when given an opportunity with the Nets this season he will likely make the most of it. He is a tenacious rebounder and is a good finisher around the rim despite his limitations because of his touch.
I foresee Williams being a full-time member of the Nets roster by the end of the season.