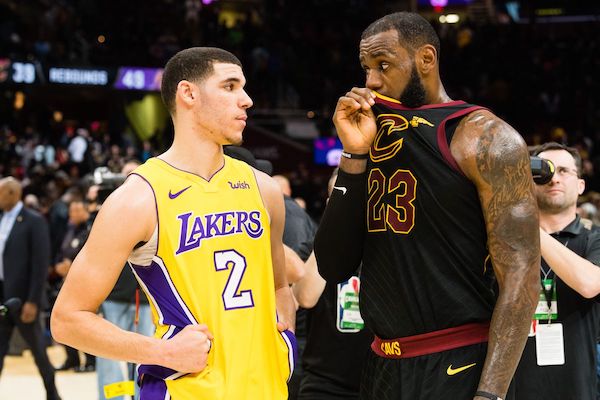 It seems the Los Angeles Lakers' decisions following LeBron James' arrival are, in fact, part of a larger plan.
People laughed at them signing Rajon Rondo and Lance Stephenson, as they should have. The Lakers, the thinking went, were foolish to prioritize non-spacers, even if they were on one-year deals. After all, how much good would cap flexibility do them when all they were going to do is turn around and flip the youth for a superstar, such as Kawhi Leonard, before the offseason ended?
Well, so much for that.
According to Basketball Insiders' Eric Pincus, people around the Lakers are really feeling the LeBron-plus-kiddies thing:
From conversations I've had with people in and around the team, Lakers really eager to see what they have with LeBron and their kids – and are looking forward to adding one of the many stars available in 2019 FA (including Kawhi or Jimmy or KD or Klay or Kemba or Kyrie, etc.) https://t.co/PIyZYyZQae

— Eric Pincus (@EricPincus) July 17, 2018
More specifically, it doesn't sound like Los Angeles is willing to include Josh Hart or Kyle Kuzma, let alone Lonzo Ball and Brandon Ingram, in prospective trade packages:
I feel at this point they don't give up Hart and never believed they'd trade Kuzma https://t.co/1IAjihtSRH

— Eric Pincus (@EricPincus) July 17, 2018
If true, this says it all: The Lakers aren't trading for Kawhi Leonard or any other star this season.
This isn't to say they're wrong, or that Hart and Kuzma aren't good. (Hart is going to be better than Kuzma. You watch.) There is something admirable about them being committed to let this core marinate around LeBron. It sucks for LeBron's immediate window, but it bodes well for the future and gives the team more avenues and dynamics to explore down the line.
That doesn't mean the Lakers will abandon the Leonard pursuit altogether. He's Kawhi freaking Leonard. At the same time, if either one of Hart or Kuzma is considered anything close to off-limits, then forget it. The Lakers aren't serious about making any substantial moves before or during next season. And again: That's fine. But if we're buying this—and I kind of think we should—it's time to spend more time analyzing what this roster as currently constructed can become, because it's probably not changing.