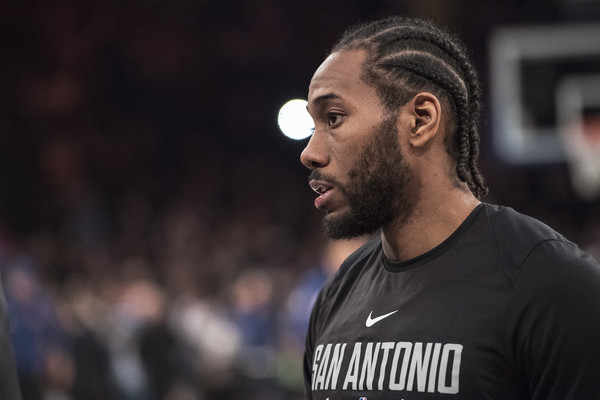 To everyone hoping their favorite NBA team has a viable shot at trading for Kawhi Leonard, we've got a message for you: Good luck.
Though things between the two-time Defensive Player of the Year and San Antonio Spurs are not hunky-dory, prospective suitors for his services should not expect to swoop in and steal him for a cut-rate package. From Kevin O'Connor of The Ringer:
It's really just a matter of what the Spurs would want in a package. I've heard from multiple NBA executives that San Antonio won't settle for anything less than a grand-slam offer. If offers were underwhelming around the draft and the start of free agency, the Spurs might opt to let the saga drag into training camp, or even into the season. Leonard could always rekindle his relationship with the team, or return to the floor and increase his trade value.
This keeps in theme with what has generally been put out there for the past few months. Some think the relationship between Leonard and the Spurs is irreparable, but even if it is, they're not just going to give him away. He's a top-five player when healthy, and those don't just grow on trees, not even in Spurs Land.
At the same time, it's not like San Antonio will just about-face into a king's ransom. Leonard has one year left on his deal (player option) and is working off a season in which he made just nine appearances. Just as the Spurs must think about whether he's worth the designated player extension, other teams have to decide how much they're willing to fork over in exchange for the expiring contract of a player who spent almost the entire season on the shelf.
This, of course, assumes the situation ever actually reaches the point of no return. Spurs coach-president Gregg Popovich brought San Antonio's relationship with LaMarcus Aldridge back from the dead last summer. He could do the same with Leonard now.