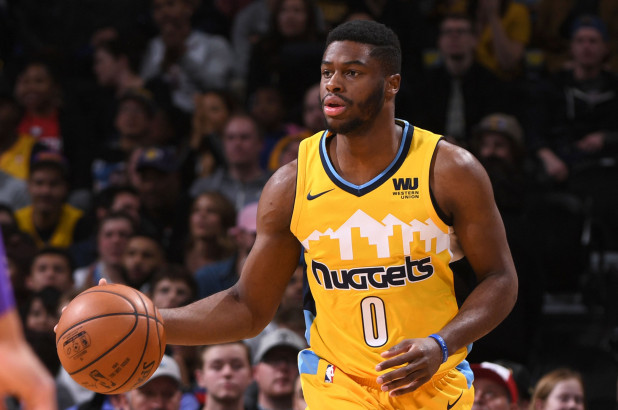 The New York Knicks have been on the search for a better option at point guard all season while rookie Frank Ntilkina develops. Starting Jarrett Jack as your point guard in 2018 is not the situation you want to be in. After striking out on Kemba Walker (or even Isaiah Thomas) the Knicks ended up with a younger consolation prize: Emmanuel Mudiay.
They acquired Mudiay as part of the three-team deal involving the Knicks, Nuggets and Dallas Mavericks:
Denver, New York and Dallas agreed on a three-way deal, league sources tell ESPN. Mudiay to Knicks; Devin Harris to Denver and Doug McDermott to Dallas.

— Adrian Wojnarowski (@wojespn) February 8, 2018
Denver and New York was swapping second-round picks in the three-way trade, league sources tell ESPN. Denver gets New York's 2018 second-round pick via Clippers, and Knicks get Denver's second-round pick via Portland.

— Adrian Wojnarowski (@wojespn) February 8, 2018
Much like the Suns decision to buy low to acquire Elfrid Payton, the Knicks took a chance on another recent lottery pick who has panned out to this point but is still only 21.
The Mavericks meanwhile moved Devin Harris and his expiring deal to the Nuggets and landed a 26-year-old role player in McDermott who could end up being a part of their future.
Essentially everyone gets what they want here: the Knicks another point guard, the Nuggets to save a little money and help them land under the luxury tax and the Mavericks move a veteran for a useful player that could be in their rotation next season.
It will be interesting to see what a change of scenery does for Mudiay, unfortunately he won't have a unicorn in Kristaps Porzingis to feed the ball to the rest of this season though.