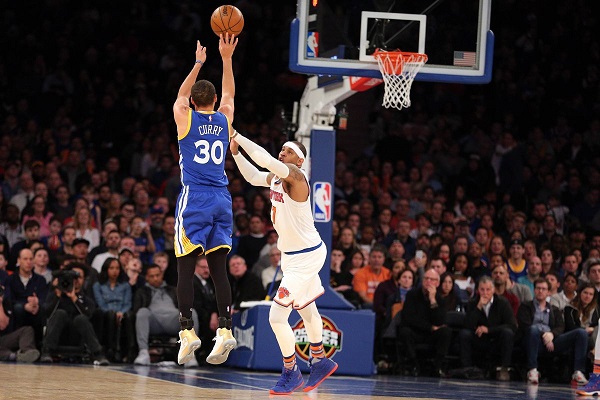 Steph Curry is the greatest shooter in NBA history and there is really little doubt.
Curry's lightning quick release, short-area quickness, incredible range and ability to shoot off of the dribble or coming off of a screen have made him virtually un-guardable on nights when his shot is humming, which is most nights it seems.
He became the 8th player in NBA history to reach 2,000 career three-pointers in the Warriors 125-115 comeback victory in New Orleans on Monday night.
VIDEO: Steph Curry becomes 8th player to reach 2,000 career 3-pointers. ? https://t.co/MQEKoDtdwG pic.twitter.com/SZwDJfdel9

— theScore (@theScore) December 5, 2017
To put Steph's dominance from downtown in perspective, here is a list showing how many games it has taken Curry to reach this mark as compared to his peers…
If Steph Curry plays the same amount of games as Reggie Miller, he's on pace to finish his career with 4,645 threes. pic.twitter.com/GtRnnevlPx

— Cory (@HeaterForsberg) December 2, 2017
Curry is currently on pace for about 4,500 three-pointers if his career lasted as long as Reggie Miller or Ray Allen, I'll let that sink in for a moment…
He is currently 4th in NBA history in three-point percentage at 43.5%, behind the late, great Drazen Petrovic, Hubert Davis and his very own coach Steve Kerr, who shot over 45% for his career in 1.7 attempts per game.
Again to put that in perspective, Curry averages 7.7 three point attempts per game.
His propensity for knocking down threes can only be compared to Jerry Rice's pure domination of the wide receiver position in the NFL.
Pretty amazing to be universally regarded as the greatest all-time at something before the age of 30…