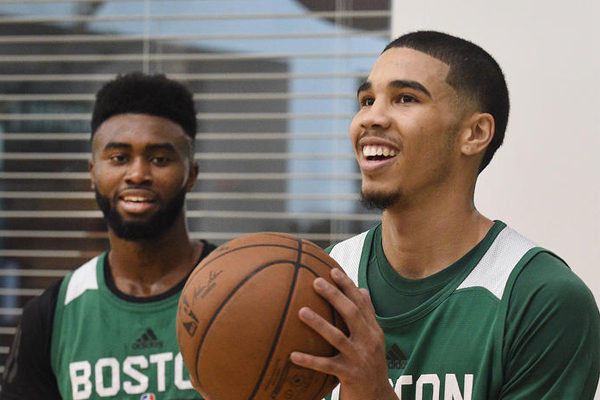 Jaylen Brown and rookie Jayson Tatum are incredibly important to the Boston Celtics' future. But, by virtue of losing Avery Bradley and Jae Crowder, they're also pivotal to the present.
Yes, the Celtics signed Gordon Hayward, and Bradley's departure came with Marcus Morris as compensation. Still, both Bradley (off-ball scorer, crafty defender) and Crowder (gutsy defender, solid spot-up shooter and situational driver) factored heavily into the team's success. Tatum needs to replace some of the off-ball cutting and shooting lost with those two, and Brown must join Marcus Smart in helping cover up for Kyrie Irving, like Isaiah Thomas before him, at point guard on the defensive end.
That doesn't mean the Celtics are expecting them to morph into stars, or even high-end role players this season. On the contrary, team president Danny Ainge appears measured in his expectations for his two wings.
From the Boston Globe's Gary Washburn (via CBS Sports' Jack Maloney):
"I think Terry [Rozier] and Marcus [Smart] are really ready to step up," Ainge said. "And Jayson and Jaylen we can be a little bit more patient with, but they are going to play an important role."

"We'll see what minutes [Tatum] will earn. I'm not worried about how they will play when the lights go on. It will be unlikely that Jayson is Rookie of the Year because it will probably come from a team that starts their rookies and plays them 35 minutes per night."
These points are fair. Tatum most definitely isn't winning Rookie of the Year. He faces the same playing-time limitations that Brown did. He might even be at a bigger disadvantage, since the Celtics won't call on him to handle tough defensive assignments—unless, maybe, they view him as an immediate replacement to Crowder against small-ball 4s.
Regardless, Brown figures to play the larger role. The Celtics, again, need his switching in conjunction with Smart. Hayward and Morris can do some, but head coach Brad Stevens won't want to wear out the former when he has so much to do on offense, and the latter is a coin-toss switcher at best.
All of which should leave Boston in a unique spot—the rare contender that'll often turn to first- and second-year talents for immediate, meaningful help.