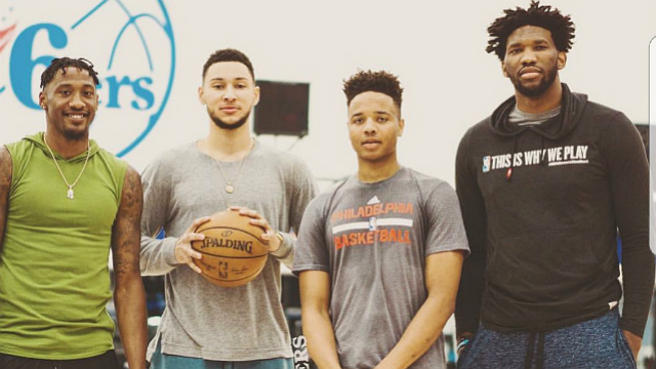 The Philadelphia 76ers organization and their fans have gone through a rough past four seasons, as former General Manager Sam Hinkie had absolutely zero problem with tanking and doing it in an obvious fashion in order to acquire high draft picks, cap space and other assets.
The past four seasons of extreme tanking has come with plenty of strife as following the "best player available" model lead them to three straight centers in the first round, one who doesn't fit today's game in Jahlil Okafor, one who has since been traded in Nerlens Noel, and one who missed his entire first two seasons with foot issues in Joel Embiid.
Then came the 2016 NBA Draft, their first No. 1 pick amidst all of the tanking, a potential transformative player in Ben Simmons and you guessed it, another missed season due to a foot injury.
While Simmons did miss his entire rookie season, the 2016-17 season also gave the first peek at the light at the end of the tunnel for a franchise and fan base starving for a pay-off as a pesky 76ers team won 28 games (yes an improvement) and found a potential superstar center in the supremely gifted and entertaining Joel Embiid. They also had pieced together some great young talent and pieces in fellow first round draft pick Dario Saric, Robert Covington and backup point guard T.J. McConnell.
Now after the blockbuster trade this weekend in which the 76ers dealt the No. 3 pick of the 2017 NBA Draft, the Lakers first round pick in 2018 and Sacramento's first round pick in 2019, the 76ers have acquired the No. 1 pick in the draft and the perfect player it would appear to complete their dynamic trio of Embiid-Simmomns-Fultz.
The future and the payoff for years of futility was real and apparently began over the weekend as Fultz conducted his pre-draft workout with a healthy Ben Simmons and Joel Embiid on the court to join him.
This should be legendary if it happens #TheProcess pic.twitter.com/234a42aoZW

— Joel Embiid (@JoelEmbiid) June 18, 2017
Though there is no guarantee this trio can stay healthy and truly grow together as the 76ers hope (Embiid especially is a red flag), the 76ers commitment to going all in to completely rebuild a franchise through the top of the NBA Draft and dealing with the struggle in the meantime could payoff big time for a team that could be competing for NBA titles in the next five years.
Embiid, Simmons and Fultz could be one of the better young trios the league has ever seen, with an elite center built for today's NBA, an elite distributor and play maker who makes his teammates better and a go-to scorer who could average 20 to 25 points per game.
"The Process" might have paid off after all, and the seeds for the next great eastern conference team could have been planted this weekend.