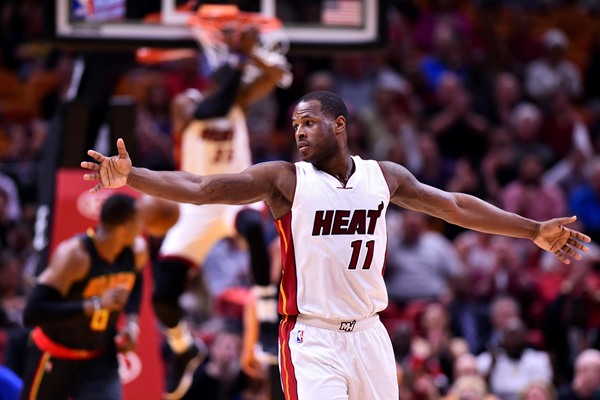 Get excited, Miami Heat fans! Sort of.
Dion Waiters has missed the Miami Heat's last three games after suffering an ankle injury during a March 17 win against the Minnesota Timberwolves. Though X-rays were negative, no timetable was placed on his return. That still seems to be the case now, only the Heat know Waiters' ankle is on the up and up, according to the Palm Beach Post's Anthony Chiang:
According to a source, Waiters' ankle is progressing in the right direction but there's still no timetable for his return. Waiters wanted an MRI if the ankle wasn't progressing, but it's improving so no MRI is currently scheduled.

"He's feeling better," coach Erik Spoelstra said Thursday when asked about Waiters' ankle. "Some of the swelling is starting to come down. But there still is no timetable."
The Heat have sole ownership of eighth place in the Eastern Conference, and their bench has been the best in the league, by net rating, since they began their tear on Jan. 17, according to NBA.com. They can survive without Waiters.
But he became crucial to their midseason turnaround. He's shooting a career-best 39.4 percent from beyond the arc and averaging more assists per 100 possessions than ever. Elements of a chucker are still there, but never before has he done a better job playing within the ebbs and flow of an offense.
If he's out for the rest of the season, the Heat's playoff stock takes a hit. They were never going to beat the first-place Cleveland Cavaliers anyway, but they have a shot at the seven- and six-seeds. That march becomes exponentially harder without him.