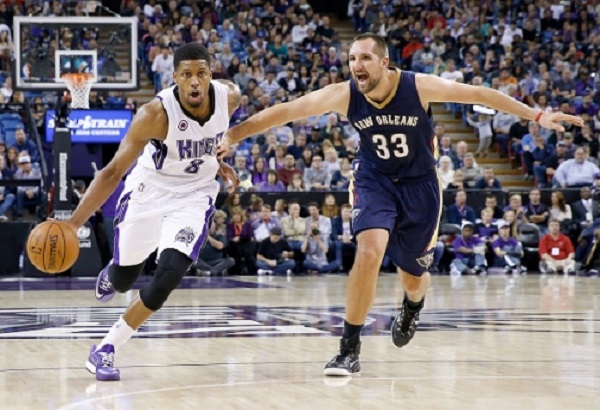 Rudy Gay is one of those players who seems to always be in the thick of NBA trade rumors and chatter and has been "on the block" for the Kings for at least the past year it seems.
He is a talented combo forward that can give you 20-6-4 on any given night but does so somewhat inefficiently and not in the flow, not congruent with an increasingly pass-happy and ball movement oriented league.
He also struggles to utilize his size and athletic gifts to make himself the kind of NBA defender he should be.
Add all of this up: the talent, the production, the deficiencies, and his status as a mid career veteran on a rebuilding team, and he screams "trade block."
He is tired of the rumors and an organization that appears to have no vision or direction in his opinion (amen brother) and aired his frustrations in a Q&A with SB Nation's Sactown Royalty Sacramento Kings blog:
Rudy Gay once got battered for his old contract. Now, reading this from @sactownroyalty, he's a sympathetic figure:https://t.co/Nibk4btU1x

— Sean Deveney (@SeanDeveney) July 26, 2016
Here is a quote from Rudy Gay about the constant trade speculation:
"You don't want to hear things on the internet, on Twitter. You would like to hear it from out of the horse's mouth. Just be upfront with people, that's all you have to do."
Here are his thoughts about his confusion with where the organization is headed:
"I have no idea. I suit up and give it my all. That's all I can do in this situation, that's all you can do. Go out there and play as much as you can. Obviously, we don't have anything to really build on. We have a new coach. I think that's the only thing we can really build on. New coach and seeing how it plays out."
Gay is turning 30 in a month and apparently had surgery on his Achilles this offseason (uh-oh). At only about $27.5 million over the next two seasons, in this market Gay is worth acquiring for a team as long as the Kings don't require much in the way of assets in return.