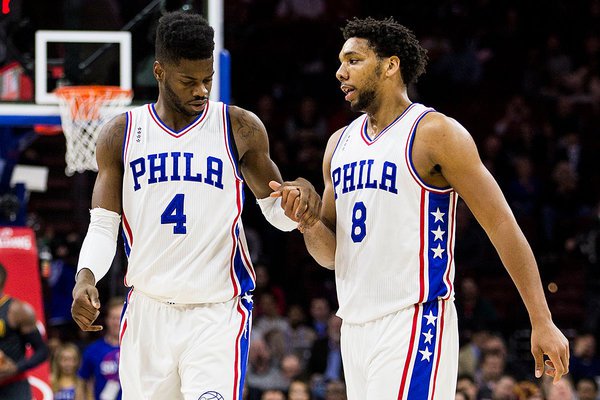 Viva la Philadelphia 76ers frontcourt logjam.
Just kidding.
The Sixers need to do something about their overcrowded frontcourt. Joel Embiid, Nerlens Noel and Jahlil Okafor are all best suited center. Playing any one of them at power forward doesn't make much sense, not even if Embiid, who is expected to make his NBA debut sometime next season, wields an above average jumper. It makes even less sense considering Dario Saric should be coming stateside in 2016-17 as well. He should be a power forward in today's league, at 6'10". Ceding minutes at the 4 will force him to the 3, where he would be, at best, a defensive wild card.
Winning the draft lottery has only compounded this issue. Though the Sixers have a greater need for Duke's Brandon Ingram, LSU's Ben Simmons is considered the more transcendent player. And while you can get by with him playing some small forward, he, too, should be a power forward.
Thus, the dilemma.
The Sixers need to make moves, doubly so if they plan on drafting Simmons. And despite most of their frontcourt assets being unknown commodities, inherently driving down their trade value, ESPN.com's Chad For expects them to break up part of the band this summer.
As he said on 97.3 ESPN, via Andrew Kulp of CSN Philly:
I think that there's a very high likelihood, that whether it's to move up in the draft or use them to grab a free agent in a sign and trade or just to a trade, that you will not see the Nerlens Noel-Jahlil Okafor pairing at the start of next season. I think that they'll gauge the interest of both players. I think that there might be a slight preference for Noel, to keep him around with the Sixers, and I think you might be right, there might be a slight, better value for Okafor out on the market, but I think everyone agrees that that combination of those two players doesn't necessarily work.

The Sixers needs to pick up assets, especially if they're gonna go ahead and do a Ben Simmons or Brandon Ingram with the first pick in the draft. Then they're gonna need those assets to start to fill out their backcourt, because the 24th pick and [the 26th pick], you're not finding starters. I'm not even sure that you're necessarily finding rotation players at that back end of the draft that are gonna make big impact, so they're gonna have to do that via free agency or via trade, and I think either Okafor or Noel — I don't think they'll trade both — but one of those two is probably their best trade chip.
It should be easier to get more for Noel. Okafor is considered to have the higher upside, but Noel is a proven defensive contributor. He can work in today's NBA as a pick-and-roll diver, rim protector and passing-lane assassin.
But it would be disingenuous to the Sixers' post-Process cause to flip the team's only known asset. Dealing Okafor arguably makes more sense, so long as the Sixers can get an adequate return for his undetermined upside, because he doesn't play a lick of defense, and his jumper doesn't extend far enough to be a spacey offensive weapon.
Either way, the Sixers need to look at trading one of Noel and Okafor. And the wheeling and dealing shouldn't stop there. It may be enough to get them by in the interim, since Embiid won't be playing 30-plus minutes from the jump, but it'll only be a matter of time before the frontcourt rotation feels overcrowded once again.