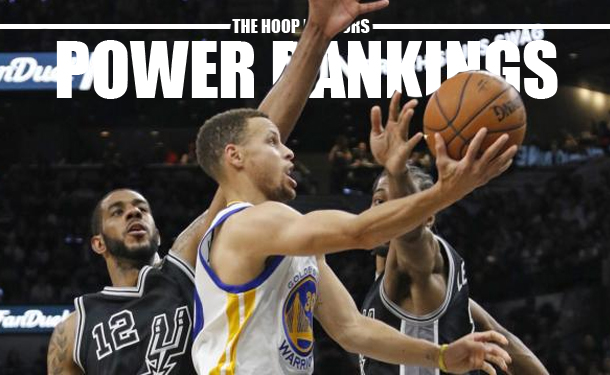 Grab those tissues. No, put the hand lotion down. Perverts. You need those for crying. The final installment of power rankings for the 2015-16 regular season is here.
We will spend our final time together focusing on the playoff picture and first-round matchups. The Golden State Warriors are still the best team ever, the Chicago Bulls remain a shit show, the Memphis Grizzlies continue to make you sad, the New York Knicks don't yet have any idea what they're doing, and the Cleveland Cavaliers are left to cross their fingers that they don't meet the Boston Celtics in or before the Eastern Conference Finals.
Let's power rank one last time, shall we?
***For a week by week list of all our NBA Power Rankings this season, please visit this page.
NBA Power Rankings
| | |
| --- | --- |
| 1 | |

Golden State Warriors

Greatest. NBA. Team. Of. All. Time. K?

Last Week (1)

| | |
| --- | --- |
| 2 | |

San Antonio Spurs

I'm starting to think the Thunder could hang with the Spurs in a seven-game series.

*punches self*

The Spurs are so going to the Western Conference Finals.

Last Week (2)

| | |
| --- | --- |
| 3 | |

Oklahoma City Thunder

To really make a splash, the Thunder will need to get their late-game theatrics together. Also, as per usual, Kevin Durant and Russell Westbrook will be need to be superhuman.

Last Week (3)

| | |
| --- | --- |
| 4 | |

Cleveland Cavaliers

LeBron is playing out of his mind. J.R. Smith, too. The rest of Cleveland? Not so much.

| | |
| --- | --- |
| 5 | |

Toronto Raptors

Facing the Pacers in the first round will be a good test of how far these Raptors have actually come. Do they have the defense to support an offense that will, at some point, bend to Indiana's own defense?

Last Week (5)

| | |
| --- | --- |
| 6 | |

Los Angeles Clippers

The Clippers went from matching up with the browbeaten Grizzlies in the first round of the playoffs to being pitted against the Blazers. Talk about your unfortunate turn of events.

Last Week (7)

| | |
| --- | --- |
| 7 | |

Atlanta Hawks

Paul Millsap and Al Horford are somehow the East's best frontcourt duo and underrated. Go. Freaking. Figure.

Last Week (5)

| | |
| --- | --- |
| 8 | |

Miami Heat

The Heat are catching fire at the right time. Josh McRoberts is getting healthy at the right time, too. The main concern from here on is covering up Hassan Whiteside when he gets switched onto ball-handlers and shooters.

Last Week (9)

| | |
| --- | --- |
| 9 | |

Boston Celtics

Still think the Celtics are the biggest threat to Cleveland's Eastern Conference throne. When they're on, they can beat anyone, and their fast-paced, defense-heavy style is difficult to combat.

Last Week (8)

| | |
| --- | --- |
| 10 | |

Charlotte Hornets

Though the Hornets basically flirted with the idea of winning 50 games, it remains unlikely they win a playoff series. That is, unequivocally, crazy.

Last Week (10)

| | |
| --- | --- |
| 11 | |

Portland Trail Blazers

Neil Olshey isn't getting enough Executive of the Year dap. Let's hope that changes. And fast.

Last Week (12)

| | |
| --- | --- |
| 12 | |

Dallas Mavericks

No Deron Williams? No Chandler Parsons? No problem. Seriously. My mind is blown.

Last Week (15)

| | |
| --- | --- |
| 13 | |

Indiana Pacers

Congratulations to the Pacers for avoiding the Cavaliers through the first, and potentially second, round of the playoffs.

Last Week (13)

| | |
| --- | --- |
| 14 | |

Detroit Pistons

Reggie Jackson wants to face Cleveland in the first round of the postseason. He got his wish, and the Cavaliers will make him regret it.

Last Week (14)

| | |
| --- | --- |
| 15 | |

Houston Rockets

Somehow, someway, the Rockets are playoff-bound. They should thank the Jazz for their untimely meltdowns and influx of injuries. They wouldn't be in the playoffs otherwise.

Last Week (16)

| | |
| --- | --- |
| 16 | |

Utah Jazz

Tough season for the Jazz. Injuries and crunch-time warts really killed them. They're still one of the most intriguing teams to watch moving forward.

Last Week (11)

| | |
| --- | --- |
| 17 | |

Chicago Bulls

Joakim Noah is a free agent. Pau Gasol is a free agent. Derrick Rose still thinks he's the business. Jimmy Butler apparently isn't well-liked.

Chicago's offseason is going to be so boring, am I right?

| | |
| --- | --- |
| 18 | |

Washington Wizards

Missing out on the playoffs as Kevin Durant approaches free agency was not ideal.

Last Week (17)

| | |
| --- | --- |
| 19 | |

Orlando Magic

From last week: "If the NBA had a 'Roller Coaster NBA Team of the Year' award, the Magic would totally win it."

This remains true.

Last Week (19)

| | |
| --- | --- |
| 20 | |

Denver Nuggets

If the Nuggets hit on their top-seven pick this year, they'll be super scary by 2018.

Last Week (21)

| | |
| --- | --- |
| 21 | |

Memphis Grizzlies

Poor Grizzlies. They held serve for a while without Mike Conley and Marc Gasol, remaining matched up with the Clippers in the first round. Now they pull the Spurs. Yikes.

Last Week (20)

| | |
| --- | --- |
| 22 | |

Minnesota Timberwolves

Anyone who doesn't give Karl-Anthony Towns a first-place vote for Rookie of the Year is on drugs. And not the good kind.

Last Week (22)

| | |
| --- | --- |
| 23 | |

Milwaukee Bucks

Here's a thought: The Bucks should hold on to Giannis Antetokounmpo, Khris Middleton and Jabari Parker, and then gut the rest of the roster.

Last Week (23)

| | |
| --- | --- |
| 24 | |

Sacramento Kings

R.I.P. George Karl's NBA head coaching career.

Last Week (25)

| | |
| --- | --- |
| 25 | |

New York Knicks

Carmelo Anthony wants a say in the Knicks' offseason decisions, Phil Jackson has no idea what he's doing and New York is no longer a hot destination for free agents.

What could possibly go wrong this summer?

Last Week (24)

| | |
| --- | --- |
| 26 | |

New Orleans Pelicans

Am I still on the Ben Simmons-or-Brandon Ingram-to-New Orleans train? Yes. Yes, I am.

Last Week (26)

| | |
| --- | --- |
| 27 | |

Phoenix Suns

So, like, the Suns have to trade one of Eric Bledsoe and Brandon Knight this summer. Right?

Last Week (29)

| | |
| --- | --- |
| 28 | |

Los Angeles Lakers

Goodbye, Kobe Bryant. It's been real. It's been fun, though not so much lately. Thank you for marketing yourself perhaps better than any other NBA player before you. And thanks for going from a crazed psychopath to a teddy bear. The transition has been amazing to watch.

Last Week (27)

| | |
| --- | --- |
| 29 | |

Brooklyn Nets

Should the Nets sign Seth Curry this offseason? Most definitely.

Last Week (28)

| | |
| --- | --- |
| 30 | |

Philadelphia 76ers

Last Week (30)