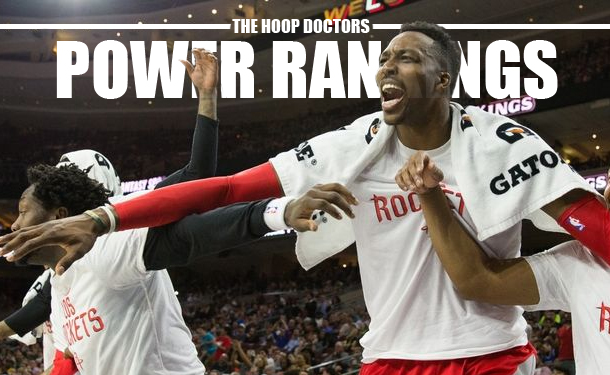 Brace yourselves: This marks the fifth consecutive week in which there is no change within the top seven of our NBA power rankings.
We're not even talking regardless of order, either. The streak would be longer if we cared not for the exact position of every top-seven team. But we do care, and the Golden State Warriors, San Antonio Spurs, Cleveland Cavaliers, Oklahoma City Thunder, Toronto Raptors, Los Angeles Clippers and Boston Celtics have all held firm in their present spots for over a month without moving even a little. That's absurd.
Also absurd: The Eastern Conference's clunky middle class. It's just as chaotic as it was the week before, and the week before that, and the week before that.
Absurd still: The Houston Rockets may have found their defensive mojo.
Not absurd but nonetheless important: It's time to power rank.
***For a week by week list of all our NBA Power Rankings this season, please visit this page.
NBA Power Rankings
| | |
| --- | --- |
| 1 | |

Golden State Warriors

Some are still inclined to rank the Warriors ahead of the Spurs. I'm just not there. Golden State may be in cruise control, but it's the best gotdamn cruise control in existence.

Last Week (1)

| | |
| --- | --- |
| 2 | |

San Antonio Spurs

It seems as if the Spurs are tailor-made to beat the Warriors. They're slow, methodical, efficient and ready bludgeon opposing offenses to death. And yet, the Spurs' chances may come down to whether they're able to play Boris Diaw at the 5 and Kawhi Leonard at the 4 whenever the Warriors throw Draymond Green at center.

Last Week (2)

| | |
| --- | --- |
| 3 | |

Cleveland Cavaliers

No contender has made me more uncomfortable in recent memory than these Cavaliers. They're hot and cold, and their propensity for playing down to the level of their opponents, however low, is second to none.

Last Week (3)

| | |
| --- | --- |
| 4 | |

Oklahoma City Thunder

Kevin Durant and Russell Westbrook are one of the best one-two punches in NBA history, and somehow it'll be a surprise if the Thunder make it out of the second round.

| | |
| --- | --- |
| 5 | |

Toronto Raptors

Still without DeMarre Carroll, and this time without DeMar DeRozan and Jonas Valanciunas, the Raptors destroyed the Bucks. Toronto is misleadingly deep.

Last Week (5)

| | |
| --- | --- |
| 6 | |

Los Angeles Clippers

Breaking: The Clippers are showing signs of needing Blake Griffin.

Last Week (6)

| | |
| --- | --- |
| 7 | |

Boston Celtics

Jae Crowder's absence is going to test these Celtics. He's so important to what they do on both ends of the floor. That said, the Celtics have a positive net rating whenever they play without any one of their guys, per NBA.com, and I'm pretty sure the only other team that can say the same is the Spurs.

Last Week (7)

| | |
| --- | --- |
| 8 | |

Miami Heat

Joe Johnson has ice in his veins but flamethrowers for arms. That's inexplicably amazing, and the Heat's offense has exploded accordingly.

Last Week (9)

| | |
| --- | --- |
| 9 | |

Atlanta Hawks

Jeff Teague's decision-making within pick-and-rolls has been bad this year. Meanwhile, Dennis Schroder is the little engine that could but then decided that wasn't enough and started doing more.

Last Week (11)

| | |
| --- | --- |
| 10 | |

Charlotte Hornets

If Kemba Walker's and Courtney Lee's shooting hold up into the playoffs, the Hornets are going to be a problem.

Last Week (10)

| | |
| --- | --- |
| 11 | |

Indiana Pacers

There are glimpses of an elite offense brewing in Indiana, specifically because the Paul George-Myles Turner marriage is going to be straight fire.

Last Week (12)

| | |
| --- | --- |
| 12 | |

Portland Trail Blazers

Ed Davis is the MVP of Players Who Should Never Be Considered for MVP. The Blazers cannot function without him on defense, and he's doing a bang-up job chasing around power forwards and centers.

Last Week (8)

| | |
| --- | --- |
| 13 | |

Detroit Pistons

Something needs to give for the Pistons outside their starting lineup. Their playoff hopes depend on it.

Last Week (13)

| | |
| --- | --- |
| 14 | |

Houston Rockets

Small sample in mind, the Rockets have a top-three defense for the month of March, per NBA.com. Their offensive efficiency has dipped, but their overall net rating falls inside the top seven. If this portends a profound shift in play style, they're going to be a troubling sixth seed out west.

Last Week (16)

| | |
| --- | --- |
| 15 | |

Utah Jazz

Uh oh. The Jazz are doing it again. You know, that thing where they make you believe they're a bona fide playoff team. Expect them to begin a maddening losing streak any day now.

Last Week (20)

| | |
| --- | --- |
| 16 | |

Dallas Mavericks

Has there been another team that's experienced a wider variety of power rankings placements than these Mavericks? Maybe the Blazers, but that's about it.

Last Week (14)

| | |
| --- | --- |
| 17 | |

Washington Wizards

Crazy to think that, less than one year ago, the Wizards were considered favorites to land KD if he decided to leave OKC.

| | |
| --- | --- |
| 18 | |

Chicago Bulls

Not impressed with the Bulls, even with Jimmy Butler back in the lineup. Feels like they're going to miss the postseason for the first time since 2008.

Last Week (17)

| | |
| --- | --- |
| 19 | |

Memphis Grizzlies

Okay, so, now that Marc Gasol and Mike Conley are both injured, the Grizzlies have to stop winning games, right? RIGHT?

Last Week (15)

| | |
| --- | --- |
| 20 | |

Milwaukee Bucks

Point Giannis Antetokounmpo has been mostly great for the Bucks, but their offense still gets bogged down by spacing issues. They really need him and Jabari Parker to expand their ranges before next season.

Last Week (19)

| | |
| --- | --- |
| 21 | |

Orlando Magic

All our Magic-related posts from now until the end of time are probably going to be about the high-flying, fast-rising, stretch-5-to-be Aaron Gordon, because why the hell not?

Last Week (22)

| | |
| --- | --- |
| 22 | |

Denver Nuggets

Nikola Jokic, even in limited playing time, is quietly morphing into a huge fantasy asset.

Last Week (21)

| | |
| --- | --- |
| 23 | |

New York Knicks

Did I move the Knicks up two spots in hopes they would notice and decide to ditch whatever half-baked plan Phil Jackson may or may not have to coach the team half of the time next season? No, I didn't. But I didn't not do it for that reason, either.

Last Week (25)

| | |
| --- | --- |
| 24 | |

Sacramento Kings

Few teams are as painful to watch as the Kings these days. DeMarcus Cousins is good, and the Kings are fast. But it's just not entertaining basketball.

Last Week (24)

| | |
| --- | --- |
| 25 | |

Minnesota Timberwolves

Real talk: I'm not sure whether to be ecstatic that Ben Simmons has a shot to join Karl-Anthony Towns and Andrew Wiggins in Minnesota or concerned that the Timberwolves somehow entered the running for Ben Simmons despite employing Karl-Anthony Towns and Andrew Wiggins.

Last Week (26)

| | |
| --- | --- |
| 26 | |

New Orleans Pelicans

Judging from all the injuries, the Pelicans definitely did something to piss off the gods of fate.

Last Week (23)

| | |
| --- | --- |
| 27 | |

Brooklyn Nets

Bojan Bogdanovic dropped 44 points against the Sixers, because, apparently, the world is upside down.

Last Week (28)

| | |
| --- | --- |
| 28 | |

Phoenix Suns

Well, well, well. The Suns offense and defense is largely crap, but Phoenix is starting to win ballgames.

Last Week (29)

| | |
| --- | --- |
| 29 | |

Los Angeles Lakers

Anyone else interested in how much Jordan Clarkson is going to command in restricted free agency?

Last Week (27)

| | |
| --- | --- |
| 30 | |

Philadelphia 76ers

Turns out the Sixers' problems extend way beyond Jahlil Okafor's crap defense.

Last Week (30)