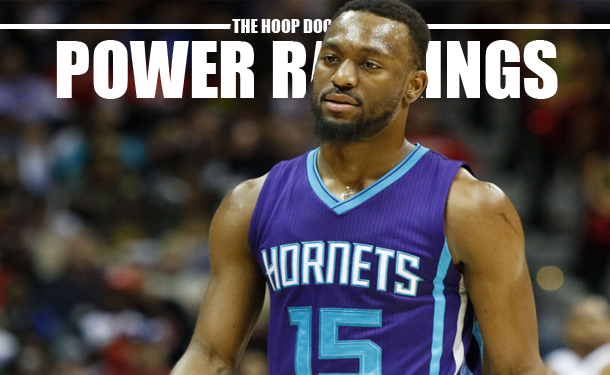 Here's to elitist consistency!
Never, in the history of these power rankings, has the NBA's top-most block been more unchanging. The top-10 squads are pretty much set for the rest of the season. They might jostle for position among one another, and there are a few wild cards, such as the Charlotte Hornets and Portland Trail Blazers, who could play themselves outside of this exclusive clique. But, for the most part, the Association's upper echelon is ironclad.
Any and all movement has come outside that group of studs, the one headlined by an unwavering top-six performers in the Golden State Warriors, San Antonio Spurs, Cleveland Cavaliers, Oklahoma City Thunder, Toronto Raptors and Los Angeles Clippers.
We have a new worst team in the league this week (shoutout, Philadelphia 76ers), while our King of the Middle remains the same (shoutout, Memphis Grizzlies). Some teams have suffered substantive drops (shoutout, Dallas Mavericks), others have enjoyed considerable rises (shoutout, Denver Nuggets).
Without further delay, let's power rank.
***For a week by week list of all our NBA Power Rankings this season, please visit this page.
NBA Power Rankings
| | |
| --- | --- |
| 1 | |

Golden State Warriors

Pretty sure the Warriors have entered cruise control this side of the All-Star break…and they're still indomitable.

Last Week (1)

| | |
| --- | --- |
| 2 | |

San Antonio Spurs

The Spurs are on pace to improve their winning percentage between last season and now by the second-highest margin in the NBA. So, you know, they're still not fair.

Last Week (2)

| | |
| --- | --- |
| 3 | |

Cleveland Cavaliers

Kudos to LeBron James for championing what will soon be the most uptight, high-strung, un-fun 60-win team in NBA history.

Last Week (3)

| | |
| --- | --- |
| 4 | |

Oklahoma City Thunder

If the Thunder played smarter down the stretch, they'd have about 10 more victories than they do now.

| | |
| --- | --- |
| 5 | |

Toronto Raptors

Imagine what this Raptors team could look like if DeMarre Carroll was healthy.

Last Week (5)

| | |
| --- | --- |
| 6 | |

Los Angeles Clippers

T minus a few weeks until we see if the Clippers' supremacy can fly higher with Blake Griffin.

Last Week (6)

| | |
| --- | --- |
| 7 | |

Boston Celtics

The more I watch the Celtics, the more I've decided Nicolas Batum should sign with them this summer.

Last Week (7)

| | |
| --- | --- |
| 8 | |

Portland Trail Blazers

Damian Lillard is kicking ass and taking names and dropping 40-plus point performances like it's nothing.

Last Week (8)

| | |
| --- | --- |
| 9 | |

Miami Heat

It'll be super surprising if Chris Bosh plays again this season. Even more surprising is that the Heat should be okay without him.

Last Week (9)

| | |
| --- | --- |
| 10 | |

Charlotte Hornets

Marvin Williams for MVP.

Last Week (11)

| | |
| --- | --- |
| 11 | |

Atlanta Hawks

Dennis Schroder and Jeff Teague should learn to play together. That would solve a lot of Atlanta's issues, not to mention be super fun to watch.

Last Week (12)

| | |
| --- | --- |
| 12 | |

Indiana Pacers

Take me to the Paul George-Myles Turner pairing of two years from now? Please? K, thanks.

Last Week (14)

| | |
| --- | --- |
| 13 | |

Detroit Pistons

Detroit's new starting five is an offensive and defensive dream. If only the rest of the roster lived up to that standard.

Last Week (13)

| | |
| --- | --- |
| 14 | |

Dallas Mavericks

The 2015-16 Mavericks, forever hot-and-cold and up-and-down.

Last Week (10)

| | |
| --- | --- |
| 15 | |

Memphis Grizzlies

To this point, even after their blowout loss to the Celtics, the Grizzlies have been statistically better without Marc Gasol. This is weird.

Last Week (15)

| | |
| --- | --- |
| 16 | |

Houston Rockets

It seems like the Rockets are starting to show some signs of life, which probably means they'll promptly spiral out of control.

Last Week (18)

| | |
| --- | --- |
| 17 | |

Chicago Bulls

Jimmy Butler's injury is no bueno. If he's not better soon, the Bulls should consider shutting him down rather than compromise that left knee of his even further.

| | |
| --- | --- |
| 18 | |

Washington Wizards

Still can't imagine the Wizards missing the playoffs, and that's a problem, since they're probably going to miss the playoffs.

Last Week (16)

| | |
| --- | --- |
| 19 | |

Milwaukee Bucks

Point Giannis Antetokounmpo is my muse.

Last Week (19)

| | |
| --- | --- |
| 20 | |

Utah Jazz

Should the Jazz offer Mike Conley a huge-ass contract over the offseason? Asking for a friend.

Last Week (17)

| | |
| --- | --- |
| 21 | |

Denver Nuggets

Update: JaKarr Sampson is fun.

Last Week (24)

| | |
| --- | --- |
| 22 | |

Orlando Magic

Aaron Gordon is either a crazy advanced robot that's excellent at feigning human emotion, or he's an alien life form from a distant galaxy. Take your pick.

Last Week (22)

| | |
| --- | --- |
| 23 | |

New Orleans Pelicans

Random but true: The idea of the Pelicans signing Evan Fournier in free agency makes sense.

Last Week (20)

| | |
| --- | --- |
| 24 | |

Sacramento Kings

Anybody else excited to see how destructively impulsive the Kings get this offseason?

Last Week (23)

| | |
| --- | --- |
| 25 | |

New York Knicks

Someone needs to tell Kurt Rambis that despite Kristaps Porzingis hitting a rookie wall he deserves all the minutes ever.

Last Week (26)

| | |
| --- | --- |
| 26 | |

Minnesota Timberwolves

It's going to be oddly unsettling if and when the Timberwolves bring back Sam Mitchell as head coach next season.

Last Week (25)

| | |
| --- | --- |
| 27 | |

Los Angeles Lakers

A recent uptick in production by the Lakers' kiddies—specifically D'Angelo Russell—might save Byron Scott's job.

Last Week (27)

| | |
| --- | --- |
| 28 | |

Brooklyn Nets

Should the Nets beat whatever the Jazz would hypothetically offer Mike Conley in free agency? Asking for another friend.

Last Week (28)

| | |
| --- | --- |
| 29 | |

Phoenix Suns

Don't look now, but the Suns are starting to figure things out on offense. No, seriously, don't look. It still isn't pretty.

Last Week (30)

| | |
| --- | --- |
| 30 | |

Philadelphia 76ers

Started from the bottom, now they're here, back at the bottom.

Last Week (29)